The six men being held in connection with the kidnap and murder of East Coast car dealer Rajendra Singh remain in custody, according to police public relations officer Ivelaw Whittaker.
Whittaker when contacted yesterday confirmed the continued detention of the men and said that investigations are continuing.
Stabroek News understands that the men were arrested at various times during last week and over the weekend the police had applied for an extension of their time in custody. That application was granted for a period which ends Wednesday.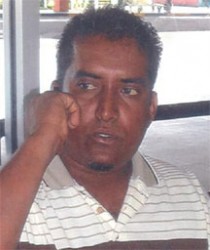 Singh was kidnapped on the evening of March 5 from his business place at Foulis, East Coast Demerara. His car was subsequently found abandoned at Goedver-wagting Railway Embankment. Contact was then made with the man's wife and a $50 million ransom demand was made. It was later reduced to $25 million. The money, based on what this newspaper was told, was never paid.
The businessman was found with gunshot wounds in Le Repentir Cemetery four days later.
Efforts by this newspaper again yesterday to make contact with the man's relatives were futile. His home was locked up while there was no answer to calls at his business place.
The police have denied a report in this newspaper that they were tipped off that the man was being held in an abandoned house in Goedverwagting and didn't act on the information in a speedy manner.
In a press release on Sunday, the police said they have acted professionally, and are continuing to do so, in keeping with operational procedures as they relate to this investigation.
The police in the release denied receiving at any time during the course of the ongoing investigations, any information from any source that Singh was being held in an abandoned house at Goedverwagt-ing.
The release stated that in responding to the report received Singh's motor vehicle was recovered on the railway embankment at Goedverwagting on the very night of his kidnapping. As a result, intensive patrols comprising police ranks and community policing personnel were mounted in the Goedverwagting area, but no useful information was obtained nor was anything suspicious seen or found.
In detailing their actions subsequent to the kidnapping, the police said that the following day, Sunday, the patrols continued and were extended to Plaisance and Sparendaam, including the squatting areas. Based on information received a house at Bel Air, Georgetown, and one at Yarrowkabra on the Soesdyke/ Linden Highway were searched. A woman was arrested at Yarrowkabra and subsequently released.
On Monday April 7, after receiving some information, the police searched four houses of the relatives of a family at Plaisance but nothing of evidential value was found.
The police said that on Tuesday (last), further searches were conducted on the same four homes in addition to a fifth home belonging to another family member, also at Plaisance, but again nothing suspicious was found. "On the very Tuesday the police received information that the kidnap victim was in a house in the Goedverwagting Squatting area and searches were conducted on the target house and two others in the squatting area, as well as an abandoned ice factory at Claybrick Road, Goedverwagting. However, nothing of evidential value was found," the statement said.
The police asserted that "at no time was information received about Rajendra Singh being held in an abandoned house at Goedverwagting, nor about him being removed from the location in a white minibus."
Friends of the family had told the media that Singh and his wife were closing their business when two men jumped out of a bus and walked into the business establishment posing as customers. They eventually brandished weapons and proceeded to assault Singh and his wife.
The men then reportedly took the day's earnings, demanded the keys to one of the couple's vehicles, put Singh in the trunk, and drove off with him. One family friend said that the man's wife rushed for another vehicle and tried to follow her husband's captors, but did not locate them.
Police gave a different version of events, stating that investigations indicated that Singh was in his motor vehicle PFF 982 in front of his business place when his wife observed two men entering the vehicle which then drove off.
Comments

GEORGETOWN, Guyana,  CMC – Jason Mohammed completed his seventh first class hundred but there was little joy for Trinidad and Tobago Red Force as Guyana Jaguars needed a mere 45 deliveries to pull off an innings and 81-run win in their final round match here today.

LIMA, (Reuters) – Pope Francis wrapped up his trip to Chile and Peru today by warning that Latin America was in a deep crisis from corruption, with politics in most countries "more sick than well." Speaking in improvised remarks to bishops, he mentioned the scandal involving construction company Odebrecht, which has admitted to paying billions in bribes, as an example of greed run amok across the continent of his birth.

SYDNEY,  (Reuters) – England's Jos Buttler struck a belligerent unbeaten 100 to set up a 16-run win over Australia in the third one-day international on Sunday, as the touring side took an unassailable 3-0 lead in the five-match series.

The Public Procurement Commission (PPC) hopes that by the end of this year debarment legislation would be in place as it will soon begin meeting with stakeholders on a draft.

A bill to provide a legal framework for the protection of witnesses was passed without amendment by the National Assembly on Friday evening despite arguments by the parliamentary opposition that it failed to take into account modern challenges.