The People's National Congress Reform (PNCR) on Sunday held a General Members meeting at the Paradise Primary School, East Coast to prepare Party members for Local Government elections.
A release from the PNCR said that speakers included A Partnership for National Unity (APNU) Local Government Elections Campaign Director, Winston Felix, MP; Party Chairman, Basil Williams, MP; and Party Leader, Brigadier David Granger, MP.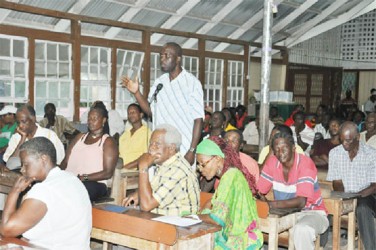 The release said that party members present were informed of the PNCR's plans for local government elections.  Granger reminded members that the Party would be contesting the elections under the banner of APNU.  Party members were urged to ensure that each eligible person in their constituencies takes advantage of the current cycle of registration and gets registered.
Felix told members that their door-to-door mobilization had to be beefed up and suitable candidates identified from the various constituencies to contest at both the Proportional Representation and the First-Past-the-Post aspects of the election. He also outlined the qualifications necessary to be a councillor for a Local Authority Area.
The release said that in a lively question and answer period, members asked a wide range of questions of regional and national interest.
Comments

An East Bank Demerara businessman was on Monday afternoon shot and robbed of an undisclosed amount of cash and valuables after he was attacked by two gunmen while at the traffic light on Irving Street, Georgetown.

Design contracts for sanitary landfills were yesterday signed by the Ministry of Communities for Bartica, Linden and Mahdia.
The police are looking for a North West District woman who is believed to have fatally stabbed her common-law husband in the Upper Pomeroon.

A Kitty woman is now a remanded prisoner after she was charged with possession of cannabis, which police say she tried to hide in a pillow during a raid.
The National Procurement and Tender Administration Board (NPTAB) was mum yesterday on the recent awarding of a US$154,154 contract to Trinidadian company, Western Scienti-fic, which was accused earlier this year of delivering expired or nearly expired drugs to the Ministry of Public Health.