Niron Wilson, the man accused of providing a Guyana Revenue Authority (GRA) officer with cocaine to post in the mail, was yesterday remanded to prison on a drug trafficking charge.
Wilson, 35, of 38 North Sophia, Greater Georgetown, denied that he, on April 9, trafficked 647 grammes of cocaine at the Guyana Post Office Corporation (GPOC) on Robb Street.
On Wednesday, GRA Customs officer Clive David, 28, of Lot 2 Princes Street, Georgetown was charged with trafficking in a narcotic by posting 647 grammes of cocaine, concealed in envelopes. The court heard that David had admitted that he had collected the envelope from a "Yankee" to post to the United States on the promise that he would be remunerated US$1,000 for the deed.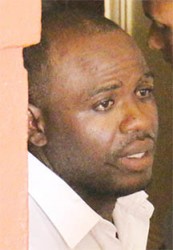 Attorney Madan Kissoon represented Wilson yesterday and made an application for bail, saying that his client had no prior matters and had not been found with the cocaine in his possession. The lawyer added that Wilson was willing to submit his passport and comply with any conditions laid down by the courts.
Prosecutor Deniro Jones objected to bail, explaining that no special reasons had been raised by the defence. He also said that handwriting analysis showed that the defendant's writing matched that of those on the found envelopes.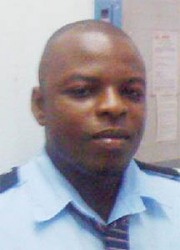 On Wednesday, Jones had objected to David's bail by citing the police's "zero tolerance" policy towards corruption as his primary reason. Jones said that Wilson had been questioned following David's revelation but had denied any involvement in the drug trafficking.
At Wednesday's proceedings, David's lawyer Lancelot Ferreira maintained that his client was an unsuspecting victim who had simply been trying to help another person by posting mail. According to Ferreira, the GRA official had no knowledge of the cocaine contained within the five envelopes discovered during a routine security check on an outgoing mail bag bound for the John F Kennedy (JFK) Airport.
Wilson was remanded to prison until May 19 when he will join David before Chief Magistrate Priya Sewnarine-Beharry.
Comments

The improvised weapons (Prisons photo) Prison Staff this morning with the support of the members of the other services, reported for duty at the new holding area lusignan Prison.

Nicolas Maduro CARACAS/LIMA, (Reuters) – A group of 12 regional nations plus the United States rejected Venezuela's new government-allied legislative superbody, saying they would continue to regard the opposition-controlled congress as the country's only legitimate law maker.

Eighteen prisoners at the Lusignan penitentiary were being treated for injuries last night following a reported attempt to kill a fellow inmate during which warders fired shots.

A 12-year-old girl is now dead, while her brother narrowly escaped a similar fate yesterday after their aunt's La Bonne Intention (LBI), East Coast Demerara house, which they were under, collapsed on them.

Guyana has officially applied for membership in the European Union's Extractive Industries Transparency Initiative (EITI) which will help in tracking revenues from oil and other natural resources.