Seventy-five year old Albert Andries was sentenced to 10 years in prison by Justice Dawn Gregory yesterday in the High Court for killing his step-son during an early morning fight in 2012.
Andries, who was on trial for the 2012 murder of the his step-son Lakeram Persaud at their home in Lincoln Street, Enterprise, East Coast Demerara, was sentenced after he was found guilty of the lesser count of manslaughter by a 12-member jury. After deliberation for two hours, the jury arrived at a unanimous decision that he was not guilty of murder but guilty of manslaughter.
Persaud was stabbed in his chest with a knife during an argument with Andries. Justice Gregory, addressing Andries, said she had considered the fact that he was 75-years-old but the severity of the injuries and the size of the wounds indicated that there "was a lot of anger in the offence."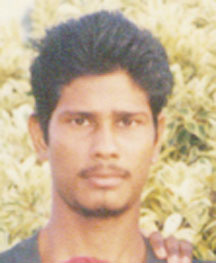 "Lakeram Persaud was severely injured," she said, before handing down her sentence.
Andries was then escorted by police from the prisoner's dock and was heard telling Persaud's mother, who was his common-law wife, "See yah!"
State witness Ramkumarie Manbahal had said that the two men were having disputes for years before the fatal confrontation in the bottom flat of their Enterprise home.
According to reports, Andries had changed his clothes after stabbing Persaud and walked out of the house, saying that he was heading to the police station. Neighbours, who were alerted by Manbahal's screams, contacted the police so that as Andries was preparing to leave the yard he was held.
Comments

The Chairman of the Triumph Neighbourhood Democratic Council (NDC) yesterday instructed workers employed on a private site, reportedly intended to build a first-floor pool, to cease operations, just two days after residents called on authorities to halt its construction.
A 55-year-old man was crushed to death yesterday afternoon by the bulldozer he was operating at Mahdia, Region 8.
Armed bandits yesterday robbed an employee of Buddy's of $2M, moments after he had returned from a city bank and the police later recovered the suspected getaway car in Middle Road, La Penitence.

An East Bank Demerara businessman was on Monday afternoon shot and robbed of an undisclosed amount of cash and valuables after he was attacked by two gunmen while at the traffic light on Irving Street, Georgetown.

Design contracts for sanitary landfills were yesterday signed by the Ministry of Communities for Bartica, Linden and Mahdia.