Kerwin Livingstone, lecturer in the Department of Language and Cultural Studies, School of Education and Humanities, University of Guyana, Turkeyen campus, has won the gold medal for his field at the University of the South Pacific, Laucala Campus, Suva, Fiji.
Livingstone is a Caribbean/Pacific Islands Mobility Scheme (CARPIMS)  Scholar
Livingstone is reported in a UG press release as saying, "The Inter-Faculty Gold Medal and Monetary Prize were for the best overall results in a postgraduate diploma. There were five recipients of this award: two from the Caribbean (my friend Camille Reid from Jamaica, and I), and three from Fiji. We each gained a perfect GPA of 4.5."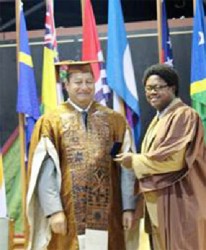 The release said that Livingstone received a CARPIMS scholarship in 2013 to pursue a Master of Education. The title of his thesis is "Exploring the potential of implementing e-learning practices at the University of Guyana."
According to the release, the King of Tonga, King Tupou VI, presented the award at the recently held presentation ceremony.
The University of Guyana congratulated Livingstone on his achievement.
The CARPIMS project is designed to enable the movement of Masters and PhD students as well as higher education staff between selected Universi-ties in the Caribbean and Pacific regions as a means of building capacity.
Comments

Allen Chastanet   CASTRIES, St. Lucia, (Reuters) – The prime minister of the small Caribbean country of St.
Dear Editor, Kindly publish my response, as follows, with regard to an anonymous letter published by the Guyana Chronicle on Wednesday, August 16, 2017, under the caption 'Will the Auditor General investigate the deputy chief elections officer?' Editor, this letter is the second deliberate attempt aimed at besmirching my integrity, obviously with clandestine objectives. 

President David Granger, today, announced that Minister within the Ministry of Communities,  Dawn Hastings-Williams will assume the portfolio of Minister of Public Affairs in the Ministry of the Presidency with effect from September 1, 2017.

Grace Mugabe   JOHANNESBURG,  (Reuters) – South African police confirmed on Wednesday that Zimbabwean first lady Grace Mugabe remained in the country and had applied for diplomatic immunity after being accused of assaulting a 20-year-old model in an upmarket Johannesburg hotel.

Daniel Craig   LONDON, (Reuters) – British actor Daniel Craig has confirmed he will reprise the role of James Bond one last time, ending months of speculation.