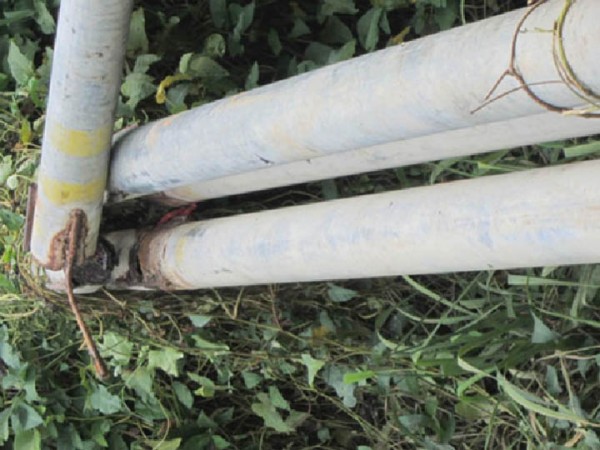 As a result of 15 metres of a 2400 pair feeder cable being stolen over the Easter weekend, thousands of GT&T landline customers have no service and the company has offered its apologies.
According to a press release from the company, areas affected by the act of vandalism are: Prashad Nagar, Sophia, Blygezight and other surrounding areas.
GT&T said the damage was severe and added that extensive repairs including civil works will have to be done. Service is expected to be restored in 4-5 days after repairs would have been completed.
GT&T called for communities to be vigilant for persons who set out to destroy such vital communication infrastructure and urged that persons report such acts to the police and to GT&T's vandalism hotline 0908.
Comments

The Guyana Power and Light (GPL) says that just after midday today, three armed bandits stormed its Parika Customer Service Centre; robbing the location of all revenues received up until that time, holding the  staff and customers at gun point and disarming a security guard of a gun.

The Management of Cheddi Jagan International Airport Corporation (CJIAC) is currently undertaking a massive expansion project  and a Temporary Arrivals Terminal Building was recently constructed.

Tourism Minister Shamfa Cudjoe announced the decision to close the company. (Trinidad Express) The Tourism Development Company (TDC) has ceased operations.

Cevons clearing city garbage WPA STATEMENT ON THE UNRESOLVED ISSUE OF GARBAGE COLLECTION IN THE GEORGETOWN MUNICIPALITY The WPA is deeply concerned that the Georgetown City Council's inability to honour its financial obligations to Cevons Waste Management and Puran Brothers has the potential of endangering the health and lives of citizens.
British High Commissioner to Guyana Greg  Quinn  yesterday said that it was hoped that more would have been done to push the constitutional reform process forward.