– brother held as suspect
A Kaneville, East Bank Demerara was yesterday found hacked to death and his brother is now being held by police as the main suspect.
Jairam Teekaram, also known as 'Nasho,' 40, of 253 Kaneville was last heard alive during a drunken brawl with his brother, Rohan Teekaram, shortly after midnight on Monday in the one-room shack they shared.
Police, in a statement, said they discovered several chop marks about his body and they confirmed arresting one person in connection with the killing to aid the investigation.
Meanwhile, a neighbour, Lizzy (only name given), said she was awakened sometime around 11 pm on Sunday by the sound of somebody hollering.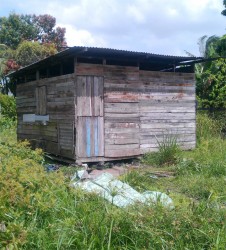 Upon looking out her window, she saw a man beating Jairam Teekaram with a belt. She said Jairam Teekaram was drunk and he was screaming at the man to stop. He eventually managed to run to her gate to hide in her yard but he fell in a drain. "Earlier Sunday he was helping me clean my yard and he ask for some food," she explained.
Lizzy said she was awakened again around 1 am on Monday by Jairam Teekaram's voice. This time it was more piercing and his brother, Rohan Teekaram, was screaming at him to "get out from here if you ain't get money." She said she decided to go back to sleep because it was usual for the brothers to fight. She said Rohan Teekaram was also drunk that morning.
Later the same morning, Lizzy said, she did not see Jairam Teekaram but saw his brother leaving for work.
He returned home that afternoon, made dinner and went to sleep. "This morning [yesterday] around 6:30 he got up and do the same but is till when my husband went into the backyard to go to the toilet that he saw a foot and he get worried and start ask if anyone see 'Nasho' but nobody did. So, he went to his son's house in Diamond and he said that he didn't see him for a while so he come back home and when we all peep we see it was Nasho's body and we call the police and they come and collect the body and went and collect Rohan at his work place in Diamond," the woman added.
She said the body was discovered hidden under a piece of vinyl. "They were always fighting but that boy [Jairam] always had a softer mind for his brother…," she said.
A post-mortem examination is scheduled to be performed on Jairam Teekaram's body, which is at the Lyken's Funeral Home.
He is survived by his son.
Comments

Wijeyadasa Rajapakshe   COLOMBO, (Reuters) – Sri Lankan President Maithripala Sirisena today sacked the justice minister over his criticism of a $1.1 billion deal, signed last month, to lease a port to a Chinese company, the cabinet spokesman said.

NEW YORK,  (Reuters) – Two Harvard University researchers said in a study published today they had collected scientific data proving Exxon Mobil Corp made "explicit factual misrepresentations" in newspaper ads it purchased to convey its views on the oil industry and climate science.

In the wake of rising bad loans and a massive alleged fraud against it this year, the Guyana Bank for Trade and Industry (GBTI) has posted an unaudited net after tax profit of $603m for the first six months of this year compared to $961m in the same period for 2016.

Vamanadev Hiralall, of the privately-run Saraswati Vidya Niketan (SVN), is the country's top performer at this year's Caribbean Advanced Proficiency Examinations (CAPE) after achieving an accumulated 13 grade one and 3 grade two passes.

Twenty-six students in the top one percent of the 12,684 who sat this year's Caribbean Secondary Education Certification (CSEC) examinations earned 12 or more Grade I passes, with half of them, including the top performer, coming from Queen's College (QC).