The $500 million allocation for the rice sector in this year's national budget will not be disbursed as individual pay-outs to farmers, according to President of the Rice Producers Association (RPA), Dharamkumar Seeraj, who says that the funds will be used to assist the industry with sustainability projects.
Seeraj told Stabroek News that there is a wide misconception that the money is to be paid out to farmers and millers and that just isn't the case. He said that the vast majority of the money will be going towards research and subsidising fertiliser to assist farmers to make purchases at a reduced cost for the second crop.
Seeraj said that the $500 million was relatively very little for the industry, explaining that that it was 3% to 4% of the total costs incurred to sustain the industry per crop. He said that Guyana used anywhere from 14,000 to 15,000 tonnes of urea fertiliser and that one tonne of urea cost US$500. "Using that you can see that the $500 million wouldn't even cover the cost of urea, but we are looking for growth and sustainability in the industry," Seeraj stated.
He said that the money will be broken down not just for subsidising urea but other fertilisers as well, while another portion will go to the Guyana Rice Development Board (GRDB) for research. He noted that currently the Agriculture Ministry was looking how to compartmentalise the funding.
He said that one of the major projects that he hoped to see was a drying station for paddy in Essequibo. "This is something that is going to benefit everyone and will be sustainable for the industry. That is the direction we need to look at for the sector," he added.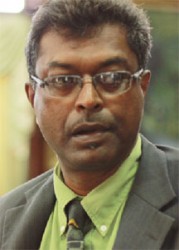 The head of the RPA said that the funds would also be used for infrastructure development that is beneficial to farmers and millers. He added that making pay outs to farmers would do little to grow the sector. "We can pay out farmers but that isn't realistic to just be handing over money. Two million here and two million there, that isn't developing infrastructure for the industry… we can use that money to buy equipment and to aid in research," Seeraj noted.
Some of the frustration that critics have about the funding was that it is a large sum of money that is being allocated to a growing industry without any real mechanisms in place for distribution.
AFC Leader Khemraj Ramjattan told Stabroek News that the ministry is supposed to provide the opposition with proposals on how the disbursement of the money will occur.
He said that the AFC has listened to farmers who have constantly complained that the lack of timely payments by millers have greatly impacted their ability to grow their business. Ramjattan said that the AFC would like to see the last $100 million of the money used to establish an insurance fund. He said, "That is a large priority and it should be because farmers are being constrained and challenged over the non-payments… they work hard and they don't get their monies." He added that the non-payments also impact their ability to purchase necessary supplies prior to the planting of the oncoming harvest, while adding that the fact that millers have consistently been delinquent in their payments over the years is enough to frustrate every farmer at some point.
Ramjattan said that an insurance fund can be accessed by farmers when millers are delinquent in their payments and the ministry could then monitor millers who have a history of non-payment and penalties could be applied. He stated that the money could be fist used to establish the insurance fund and it could then be sustained by having farmers and millers pay into it.
The notion of crop insurance has been floated for years. In 2010, the Agriculture Ministry began seriously discussing the issue but so far nothing has been formulated. With rice hitting record production highs, the notion of crop insurance is once again being pushed by famers and the opposition.
Guyana's rice production in 2013 was over 532,000 tonnes, surpassing the 450,000-tonne target by almost 20%. To date Guyana has already harvested over 150,000 tonnes of rice and paddy during the first crop.
Comments


The National Accreditation Council of Guyana (NAC) is advising the public that the American Medical Institution is not registered with the NAC as is legally required for post-secondary and tertiary educational institutions operating in Guyana.

Fifteen city councillors voted yesterday in favour of accepting the recommendations of the parking meter renegotiation committee, which would see a reduction in parking fees to $150 per hour, exemptions for religious organisations and schools, and Smart City Solutions (SCS) giving up on their claim to garage parking.

A GDF rank was yesterday remanded to prison over three armed robbery charges and alleged possession of an unlicensed gun and ammunition.
Minister of Natural Resources and Leader of the Alliance for Change (AFC), Raphael Trotman on Monday praised ExxonMobil for investing in the oil sector here and said it is now resulting in other important companies wanting to do business here.

The city lance corporal, who on Sunday allegedly shot and killed Marlon Fredericks, a mentally-challenged vendor, after he reportedly attempted to flee custody is to be charged with manslaughter.