A Canada-based Berbician who continues to remember the less fortunate, recently made a donation of Cdn$5,000 to the Three Rivers Foundation, a charitable organization that helps sick children.
Satishwar Persaud, owner of Adana Homes, a real estate brokerage, was pleased to play a role in assisting the underprivileged children to access medical care such as major surgeries overseas.
Growing up in a poor home in the town of New Amsterdam, Persaud said: "I thank God for my ultimate success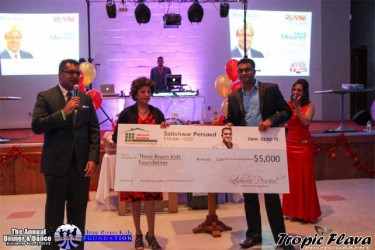 in life and want to give back to society… as a way of giving praise." He plans to "to help out Guyana as much as I can."
Persaud has been involved in many charities, including a yearly donation of $100,000 to two outstanding students in Guyana.
He has "committed towards this benevolent offering" for the past five years to ensure a "brighter future with their education."
The last donation of $50,000 each, as well as 'Adana Homes' plaques, was made to two students on November 29, 2013. He plans to continue and said the money would go towards furthering students' education.
He also donated $200,000 towards the recent construction of the Blairmont Crematorium & Memorial Gardens.
Persaud, a former branch manager at NALICO/NAFICO, had also hosted a dinner for the elderly folks in Guyana at the Church View hotel in recognition of their contribution to society.
Comments
The police say they are investigating a shooting incident which occurred about 11:20 am today at Leopold and Breda streets, Charlestown during which shop owner, Jacqueline Lagnah, 55, of 83 Leopold and Breda streets, sustained two suspected gunshot injuries to her lower back.

CARACAS/SAN CRISTOBAL, Venezuela,  (Reuters) – A wave of looting by hungry mobs across Venezuela has left streets of shuttered shops in provincial towns and pushed some store owners to arm themselves with guns and machetes, stirring fear that the turmoil could spread to the capital Caracas.

Taariq Stephens (New York Daily News photo) A Brooklyn man got a 41-year maximum prison sentence yesterday for killing a 16-year-old Guyanese girl who authorities said rejected his advances.

PRETORIA,  (Reuters) – Debutant Lungi Ngidi took six wickets as South Africa defeated India by 135 runs to claim victory in the second test in Pretoria today and also win the series with an unassailable 2-0 lead in the three-match contest.

(Trinidad Guardian) Environmental activist group Fishermen and Friends of the Sea (FFOS) has obtained an interim injunction barring the Government from continuing work on the first phase of the $400M Churchill Roosevelt Highway Extension to Manzanilla.