A hot dog vendor accused of robbing a businesswoman at gunpoint is now a remanded prisoner after being denied bail by a city magistrate.
Matthew Gasper, 19, of Lot 730 D'Urban Backlands, denied that he, on April 19, robbed Shuan Yi Yang when the charge was read to him by Chief Magistrate Priya Sewnarine-Beharry.
It is alleged that he robbed the woman of a $120,000 laptop, an iPod worth $60,000, a quantity of cigarettes valued at $16,000, and $90,000 worth of GT&T phone cards along with $105,000 in Digicel phone cards. The charge also alleged that he stole $310,000 in cash from Yang during the robbery.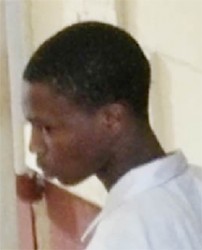 According to Prosecutor Michael Grant, Yang is a businesswoman in the D'Urban Backlands area and, on the date in question, she secured her shop and was going to her home on the upper flat. However, she was allegedly intercepted by Gasper along with two others. Gasper, the prosecutor said, had been armed with a gun.
Grant added that Gasper pointed the gun at the woman and directed her to her home, where he and his partners-in-crime robbed her before making good their escape.
Following investigations, Gasper was arrested and subsequently charged.
Prosecutor Grant objected to bail, citing the nature and gravity of the offence along with its prevalence as his reasons. He also noted that a firearm had been used in the commission of the crime.
In the man's defence, attorney Paul Fung-a-Fat pointed out that neither a gun nor any articles had been found on his client. He added that no confession statement had been given by Gasper and no identification parade had been conducted. The lawyer also said that the crime had been committed at night, while his client was a "daytime walker." "He is not on the road at night," Fung-a-Fat told the court.
Gasper was remanded until May 12, when statements are to be filed.
Comments

Wijeyadasa Rajapakshe   COLOMBO, (Reuters) – Sri Lankan President Maithripala Sirisena today sacked the justice minister over his criticism of a $1.1 billion deal, signed last month, to lease a port to a Chinese company, the cabinet spokesman said.

NEW YORK,  (Reuters) – Two Harvard University researchers said in a study published today they had collected scientific data proving Exxon Mobil Corp made "explicit factual misrepresentations" in newspaper ads it purchased to convey its views on the oil industry and climate science.

In the wake of rising bad loans and a massive alleged fraud against it this year, the Guyana Bank for Trade and Industry (GBTI) has posted an unaudited net after tax profit of $603m for the first six months of this year compared to $961m in the same period for 2016.

Vamanadev Hiralall, of the privately-run Saraswati Vidya Niketan (SVN), is the country's top performer at this year's Caribbean Advanced Proficiency Examinations (CAPE) after achieving an accumulated 13 grade one and 3 grade two passes.

Twenty-six students in the top one percent of the 12,684 who sat this year's Caribbean Secondary Education Certification (CSEC) examinations earned 12 or more Grade I passes, with half of them, including the top performer, coming from Queen's College (QC).