-wounded wife in intensive care
A fisherman was chopped to death in his home early yesterday morning during an attack by suspect robbers that left his wife hospitalised with severe wounds.
Police say investigations are being conducted into the murder of Chetram Bharrat, 40, of Lot 418 Block 20, Haslington East Coast Demerara. It was further stated that initial investigations indicated that two men armed with cutlasses entered the man's home, which he shared with his common-law wife, Lomkattie Ramdat, 36, through a window. "The men demanded cash and jewellery, during which the two victims were chopped about their bodies," police added.
Ramdat sustained chops at multiple areas about her body and sources said her entire nose was severed. She is now in the Intensive Care Unit of the Georgetown Public Hospital (GPH).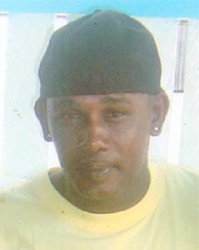 Speaking with Stabroek News, the couple's neighbour said he was awakened by the sound of a woman calling for him about 3:30am yesterday. The man added that he was reluctant to answer the call but he decided to answer after the caller persisted. "I went to my front door, and there was my neighbour with blood all over her skin," the man said before adding that Ramdat informed him that she and her husband had been attacked by thieves who demanded $500,000.
He further stated that the woman told him her husband had been severely chopped by the men and said she feared he might have been dead. The man said it was at this point he called out the other neighbours and the police were later summoned.
Stabroek News was told that Bharrat succumbed to his injuries while still in bed.
Crime Chief Leslie James said no one was been arrested up to yesterday afternoon and James added that at least two persons are being looked at as possible suspects in the crime.
He said that the motive for the attack was "purported" to be robbery and that is being looked at by the police. He added that the matter is under investigation while pointing out that it is in its initial stages. He said that the investigators will be going one step at a time and were making some progress.
Ramdat's sister, Anita Goberdan, said she suspected that her sister's former lover to be the attacker. Goberdan said Ramdat's former lover had threatened to kill her children. As a result, the 17-year-old girl and the 18-year-old boy both moved in with Goberdan out of fear. "Them children scared to go to the house because of the man she had," Goberdan said.
She said after Bharrat returned from Suriname two weeks ago, he and Ramdat reconciled and she left her lover, who was angered by the turn of events.
Goberdan said she received a phone call at around 4am yesterday and a neighbour informed her about what had transpired. She said that Ramdat's eldest son joined a taxi along with another family member and journeyed to his parents' home, where he managed to witness the gruesome state of his father's body after venturing into the house. Up to late yesterday, the young man was still visibility traumatised.
Goberdan described Bharrat as a hardworking man who would never neglect the well-being of his family. She said he and her sister had been together for 22 years and Bharrat worked as a fisherman in Suriname for the past 18 years.
Comments

In preparation for Guyana's emerging oil and gas sector and the bustling business usually synonymous with the industry, the Pegasus Hotel is expected to undergo a huge expansion which includes office and residential rental spaces.

Police Commissioner Seelall Persaud is to resume his duties today after spending approximately six months on leave, Public Security Minister Khemraj Ramjattan yesterday confirmed to Stabroek News.
The Alliance For Change (AFC) yesterday launched a scathing attack on the union GAWU, accusing it of decades of sabotage of the sugar industry and not genuinely representing the interests of its workers.

The importance of foot health, especially for persons with diabetes, was emphasized by Podologist Yvonne Braithwaite yesterday, when she launched the local leg of Rovon Health Care Inc, which includes a foot spa.

All local and international bidders for government contracts are being asked by the National Procurement and Tender Administration (NPTA) Board to complete a NPTA Supplier Registration form to obtain a registration number which they can use on bidding documents for quick database referencing.