Hundreds of people turned up yesterday at the US Embassy's Visa fair on Bentinck Street to seek advice on acquiring visas.
The Visa fair started around 10 am but locals were seen lining up on the street hours before the Embassy booths opened.
Deputy at the Consular Section of the Embassy Nazima Razick said the idea of the fair was to give out general information on how to apply for a visa, what people should bring and not bring for the visa interview.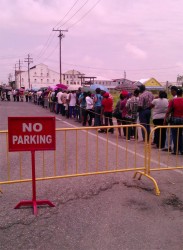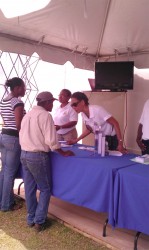 She said they were not taking applications because it was an online process. She also said depending on the turnout at the fair they will discuss doing others. Razick said she was pleased with the turnout from the Guyanese public and happy that US citizens also went to query issues.
She said embassy employees were advising people "how to apply for a student visa, a B1/B2 visa, permanent visa, immigrant visa services."
Many people said they appreciated that the embassy was reaching out and interacting with the public. One man said it was a good idea because a lot of locals do not know the requirements for getting a visa.
Another man said he was very happy that he got to interact with embassy workers since he had been trying for years to regain his US citizenship. "I have been trying for years to speak to someone in the embassy but I always got turned down… I want to return to the US and these people show me that they are very willing to help and polite."
An elderly woman said she had heard about the fair through a news broadcast and decided to visit because she always wanted to visit the US but was never aware of the requirements for applying for the visa.
Comments

Eighteen prisoners at the Lusignan penitentiary were being treated for injuries last night following a reported attempt to kill a fellow inmate during which warders fired shots.

A 12-year-old girl is now dead, while her brother narrowly escaped a similar fate yesterday after their aunt's La Bonne Intention (LBI), East Coast Demerara house, which they were under, collapsed on them.

Guyana has officially applied for membership in the European Union's Extractive Industries Transparency Initiative (EITI) which will help in tracking revenues from oil and other natural resources.

State Minister Joseph Harmon yesterday reiterated that President David Granger's directive to the Police Service Commission to halt its consideration of promotions was intended to prevent damage to the image of the Guyana Police Force but he could not say under what authority the head of state acted.

While saying that a strong security presence along the country's borders is the first line of defence against transnational criminal syndicates, President David Granger yesterday called for cooperation by all actors to see the security of Region Nine as a priority.