The New Building Society (NBS) ended last year with a surplus of $993 million compared to $813 million in the preceding year, a rise of 22%.
Chief Executive Officer, Ahmad M Khan in his report to the NBS AGM on April 26, said the $993 million surplus was the highest ever recorded in the institution's history.
The NBS's asset base has appreciated by 10% to $54 billion. He added that the demand for mortgages continued and the Society disbursed over $7.8 billion in mortgages last year compared to $6.8 billion in the previous year.
Total mortgage loans at the end of 2013 was $32.9 billion or 61% of total assets at the end of the year. While the mortgage portfolio has been growing, Khan said that the reserve for loan losses to gross loans ratio has been declining correspondingly.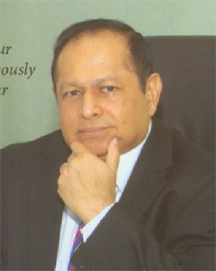 "This is testimony that the Society's Mortgage Portfolio is made up of quality loans. It is also a reflection of our mutuality of working with mortgagors in their time of difficulties to resolve their situations", he asserted.
The institution's overall portfolio increased by $3.7 billion to $44.7 billion at the end of last year.
Khan said that financial institutions in Guyana are facing an "uphill task" in conducting foreign currency business in light of Guyana being unable to amend its anti-money laundering legislation. He said that the Society remain optimistic that the major stakeholders will be able to resolve the stalemate. Nevertheless, he said that the NBS has taken steps to bolster its internal policies and procedures aimed at detecting money laundering.
The NBS's accounts show that interest income on loan assets rose from $1.67 billion in 2012 to $1.9 billion last year. Income on investments declined from $457 million in 2012 to $290 million last year. The interest expense also fell from $924 million in 2012 to $894 million last year.
Comments

A police officer helps evacuate people after a van crashed into pedestrians near the Las Ramblas avenue in central Barcelona, Spain August 17, 2017.
A post-mortem examination is expected to be performed on the body of housewife Janice Edwards, 38, of 121 'C' Field, Sophia, ECD, to determine the cause of her death.

A sketch of the proposed Curepe Interchange (Trinidad Guardian) China Railway Construction Corporation (CRCC) has been awarded a $221.7 million contract by the National infrastructure Development Company (Nidco) to build the controversial Curepe Interchange, the state company's chairman Herbert George has confirmed.

Legal Advisor to the Police, retired Justice of Appeal, Claudette Singh yesterday testified that there was insufficient evidence in the allegation made by Andriff Gillard of an alleged plot to assassinate President David Granger.

Today at 2 pm the 30 councillors of the Georgetown City Council will once again cast a vote on the future of metered parking in the city and several of them have told Stabroek News that they want to be sure their vote accurately represents a mandate from residents.