Chairman of the Private Sector Commission (PSC) Ronald Daniel Webster, 72, was laid to rest yesterday following a service at the Bethel Gospel Hall, where family and friends reflected on his life.
Webster passed away at 3.30 am on April 27, at the Balwant Singh Hospital where he had been admitted for post-operation care after flying home from Trinidad where he underwent surgery for cancer.
Webster served as the PSC's vice chairman from 1998-1999 and became chairman in 2012 and was subsequently re-elected. At the time of his death, he was the Chairman and Chief Executive Officer of Caribbean Containers Incorporated (CCI) as well as Managing Director of Technology Investments and Management Incor-porated. CCI is the latest incarnation of the cardboard carton producing company Seals and Packaging Industries Limited.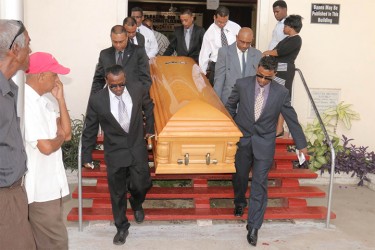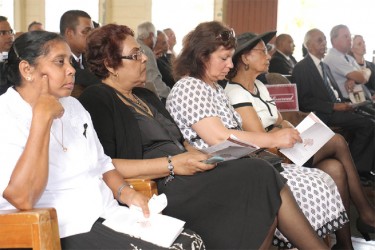 Notable contributions by Webster according to relatives was him becoming the youngest director within the Booker Group of Companies worldwide and being appointed Managing Director, Seals and Packaging Industries Ltd, now CCI, with the responsibility to privatize the then state owned company, which was successfully completed in 1992.
Among those who congregated to celebrate his life were Finance Minister Dr Ashni Singh, Speaker of the National Assembly Raphael Trotman, Member of Parliament Gail Teixeira, and former chairman of the PSC Ramesh Dookhoo.
Dookhoo, paying tribute, highlighted Webster's involvement in the PSC. "Ronald Webster was a patriot… and had a great sense of where the private sector should be going at any giving time," he said.
CCI's Zulfikar Samdally said Webster was a role model and inspiration to many.
Singh, on the behalf of Prime Minister Samuel Hinds, relayed condolences to the Webster family. Singh later said that Webster's service to Guyana, "…was as diverse as it was distinguished." He further mentioned that Webster contributed in both the private and public sectors, and the civil society as well.
His widow, Bibi Webster, described her husband as being ambitious and generous to a fault. "We will miss him," she declared, adding "but he will always be in our hearts."
The eulogy was read   by Patricia Bacchus, Webster's friend and employee at CCI. She announced that the recycling plant that had been the last project Webster was engaged in, will be commissioned in his memory later this month. The recycling plant can recycle petro-packed waste and packaging that packages liquids. She said the plant is the first of its kind in the Caribbean.
Comments

Attorney, Dr Arif Bulkan is to be sworn in as an acting Justice of Appeal tomorrow.

GPL says that some of its customers on the West Coast and East Bank of Demerara experienced unusually lengthy power cuts as a result of heavy winds and rain last evening and early this morning.

Alliance for Change (AFC) leader Raphael Trotman yesterday said the diversion of billions to the security sector after the destruction of the Camp Street prison was partly responsible for the government not budgeting the full sum for severance payments to laid off sugar workers.

The police were up to yesterday afternoon still working to ascertain the motive behind the murders of Ambrose Baharally and Martin Godette, the Pomeroon farmers who were shot dead on Sunday and a potential witness was taken into custody to assist with the investigation.

Former President Donald Ramotar has accused the current government of accepting loans from India that he initiated except those pertaining to the rehabilitation of the sugar industry but State Minister Joseph Harmon says he is unaware of the claim and has urged that the former head of state prove it.