Tameshwar 'Rambo' Khemraj, 27, the second accused in the $10M robbery at Rose Hall Town, Corentyne was remanded to prison when he appeared at the New Amsterdam Magistrate's Court on Friday.
The court heard that around 7:15 am on Wednesday, April 9, Khemraj, 27, while armed with a gun, allegedly robbed Ramlingum 'Buddy' Mangalie $10 M.
The matter is scheduled for May 20 at the Albion Court. The defendant was represented by attorney-at-law, Charrandas Persaud. The case is being prosecuted by Sergeant, Godfrey Playter.
Reports are that the businessman, who owns the Permaul's Snackette together with his father and brother, was about to make a deposit at the Republic Bank when he was attacked and robbed by two men.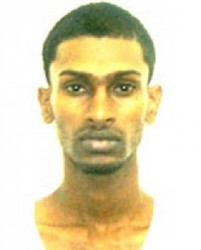 Mangalie had just pulled up in front of the bank with his van PPP 1632 when Khemraj and his alleged accomplice, Davendra 'Bara' Harricharran, 27 rode up on a motorcycle, without a licence plate and fired a shot.
They then grabbed two bags, one containing $3M while the other contained, $7M, belonging to his brother, Subramanie Mangalie.
Harricharran, of Nigg, Corentyne also faced charges a few days earlier and was remanded to prison. Khemraj, who had other matters pending at court, showed up at the Albion Court on Tuesday and was arrested.
Meanwhile, Khemraj was charged with using threatening language to Odessa Narine on April 9 at Nigg and with being in possession of six grams of narcotics on April 29. He was fined $10,000 bail each for those charges.
Comments

Attorney, Dr Arif Bulkan is to be sworn in as an acting Justice of Appeal tomorrow.

GPL says that some of its customers on the West Coast and East Bank of Demerara experienced unusually lengthy power cuts as a result of heavy winds and rain last evening and early this morning.

Alliance for Change (AFC) leader Raphael Trotman yesterday said the diversion of billions to the security sector after the destruction of the Camp Street prison was partly responsible for the government not budgeting the full sum for severance payments to laid off sugar workers.

The police were up to yesterday afternoon still working to ascertain the motive behind the murders of Ambrose Baharally and Martin Godette, the Pomeroon farmers who were shot dead on Sunday and a potential witness was taken into custody to assist with the investigation.

Former President Donald Ramotar has accused the current government of accepting loans from India that he initiated except those pertaining to the rehabilitation of the sugar industry but State Minister Joseph Harmon says he is unaware of the claim and has urged that the former head of state prove it.