Trinidadian senior counsel Dana Seetahal who was one of the commissioners in the Linden Commission of Inquiry was murdered in Trinidad just after midnight.  A TT$1 million reward is being offered by Crime Stoppers for information leading to the arrest and conviction of those involved in the murder
Below is the Trinidad Express story on the murder.
(Trinidad Express) At about 12:05 a.m. senior counsel Dana Seetahal was in her Volkswagen SUV proceeding north along Hamilton-Holder street, Woodbrook when upon reaching the vicinity of the Woodbrook Youth Facility two vehicles pulled alongside her causing her to come to a stop.
One of the vehicles, a Nissan Wingroad, then drove ahead a short distance and pulled across the road, blocking it. The other vehicle which was described as a panel van pulled alongside and the occupants of that vehicle pulled out their firearms and opened fire on the SUV.
The two vehicles then sped off and made good their escape.
Residents of the area, on hearing the gunshots contacted the police and emergency health services. However, despite their swift response, when they arrived the senior counsel and Express columnist was dead — slumped along her driver's seat.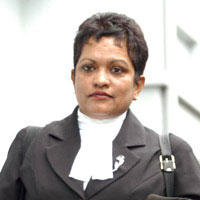 The first responders notified their seniors and a party of officers including ACP Wayne Dick, Senior Superintendent Ishmael David, Acting ASP Williams, Inspector Thomas, Inspector Veronique, Inspector Lawrence, and Inspector Rampersad, among others, visited the scene.
Crime scene investigators recovered several 5.62 shells at the scene.
Police are currently working on two theories as a result of this killing. The first, and most prominent, is that because of the nature of the incident it was a "hit" arising out of the Senior Counsel's involvement in the Vindra Naipaul-Coolman case.
The other theory is that she allegedly was on her way home after spending some time in a casino. Up to moments ago officers were said to be still at the casino conducting inquiries.
Ag Commissioner of Police Stephen Williams, when contacted by the Express a short time ago, said he was shocked.
"It's shocking. Crime is a concern especially violent crime. It's a shocking incident, one you least expect.
"I had a conversation with her at around 12.45 pm on Saturday and everything was fine.
"We need to work as a country together", Williams said.
The top cop said he had been apprised of the killing, and head of Homicide ACP Wayne Dick has been in constant communication with him.
Williams assured there will be a thorough investigation, and that his officers are on the scene doing a basic investigation.
Comments

The improvised weapons (Prisons photo) Prison Staff this morning with the support of the members of the other services, reported for duty at the new holding area lusignan Prison.

Nicolas Maduro CARACAS/LIMA, (Reuters) – A group of 12 regional nations plus the United States rejected Venezuela's new government-allied legislative superbody, saying they would continue to regard the opposition-controlled congress as the country's only legitimate law maker.

Eighteen prisoners at the Lusignan penitentiary were being treated for injuries last night following a reported attempt to kill a fellow inmate during which warders fired shots.

A 12-year-old girl is now dead, while her brother narrowly escaped a similar fate yesterday after their aunt's La Bonne Intention (LBI), East Coast Demerara house, which they were under, collapsed on them.

Guyana has officially applied for membership in the European Union's Extractive Industries Transparency Initiative (EITI) which will help in tracking revenues from oil and other natural resources.