A Guyana Sugar Corporation employee succumbed early Friday morning after his motorbike apparently collided with a horse on the Rose Hall Town public road.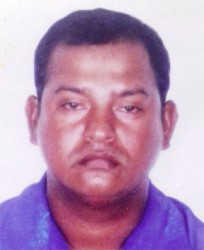 Dead is 38-years-old, Mahesh Ramsammy, of Williamsburg, Corentyne, Berbice.
Stabroek News understands that the man was heading home when he apparently came into contact with the horse at around 01:30 hrs. After the collision, it appears that he fell off the motor cycle, CG 6895.
Family members on Friday related that around 2 am, persons went to an aunt's house and delivered the tragic news. His distraught mother, Savitree Ramsammy explained that when they arrive at the Port Mourant hospital her son was being transferred to the New Amsterdam Hospital. She added, whilst at the New Amsterdam hospital her son received medical attention and was then rushed to the Georgetown Public Hospital where he succumbed
Comments

Wijeyadasa Rajapakshe   COLOMBO, (Reuters) – Sri Lankan President Maithripala Sirisena today sacked the justice minister over his criticism of a $1.1 billion deal, signed last month, to lease a port to a Chinese company, the cabinet spokesman said.

NEW YORK,  (Reuters) – Two Harvard University researchers said in a study published today they had collected scientific data proving Exxon Mobil Corp made "explicit factual misrepresentations" in newspaper ads it purchased to convey its views on the oil industry and climate science.

In the wake of rising bad loans and a massive alleged fraud against it this year, the Guyana Bank for Trade and Industry (GBTI) has posted an unaudited net after tax profit of $603m for the first six months of this year compared to $961m in the same period for 2016.

Vamanadev Hiralall, of the privately-run Saraswati Vidya Niketan (SVN), is the country's top performer at this year's Caribbean Advanced Proficiency Examinations (CAPE) after achieving an accumulated 13 grade one and 3 grade two passes.

Twenty-six students in the top one percent of the 12,684 who sat this year's Caribbean Secondary Education Certification (CSEC) examinations earned 12 or more Grade I passes, with half of them, including the top performer, coming from Queen's College (QC).