A 9-year-old girl born to Guyanese parents died tragically in New York on Sunday evening after a driver of a minivan, fleeing the scene of a minor accident, slammed into the vehicle she was travelling in.
Dead is Rebecca Ramnarine, daughter of Richard Ramnarine and Abiola McPhoy-Ramnarine, immigrants from Guyana.
According to the New York Daily News, Rebecca Ramnarine, a fourth-grader from St Albans, Queens, died at Brookdale University Hospital shortly after the 5 pm accident in Canarsie.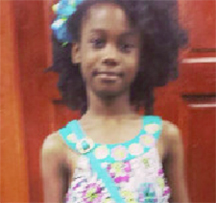 The newspaper said Rebecca was riding with a friend, Faith Cummings, 11, and her mother, Esther Cummings, 42 and they had just left services at Restoration Temple Assembly of God in Canarsie and were headed to dinner when the crash happened.
Kenneth Palache, a 62-year-old minivan driver was later arrested and charged with criminally negligent homicide, leaving the scene of an accident resulting in death and leaving the scene of an accident. He was also charged with driving with a suspended licence.
According to the NY Daily News, the incident began when the 62-year-old from Huntington was pulled over at Remsen Ave and Avenue L because his Honda Odyssey matched a description of an SUV involved in a nearby hit-and-run crash, police said.
As cops were talking to him he sped off, raced for two blocks and rammed into the back of a Hyundai Elantra at the intersection of Remsen Ave near Avenue N, police said. Rebecca was in the backseat of that car. A 2012 Toyota Sienna was also involved in the crash.
Rebecca's parents were in another car about 2 minutes behind.
"I saw the EMS try to take my daughter out of a mangled car. She was lifeless and had blood all over," the Daily News quoted Abiola Ramnarine, 38 as saying.
Meanwhile, the Cummingses and three other people who were in the Toyota Sienna were all taken to Brookdale, the Daily News said.
Comments

GEORGETOWN, Guyana,  CMC – Jason Mohammed completed his seventh first class hundred but there was little joy for Trinidad and Tobago Red Force as Guyana Jaguars needed a mere 45 deliveries to pull off an innings and 81-run win in their final round match here today.

LIMA, (Reuters) – Pope Francis wrapped up his trip to Chile and Peru today by warning that Latin America was in a deep crisis from corruption, with politics in most countries "more sick than well." Speaking in improvised remarks to bishops, he mentioned the scandal involving construction company Odebrecht, which has admitted to paying billions in bribes, as an example of greed run amok across the continent of his birth.

SYDNEY,  (Reuters) – England's Jos Buttler struck a belligerent unbeaten 100 to set up a 16-run win over Australia in the third one-day international on Sunday, as the touring side took an unassailable 3-0 lead in the five-match series.

The Public Procurement Commission (PPC) hopes that by the end of this year debarment legislation would be in place as it will soon begin meeting with stakeholders on a draft.

A bill to provide a legal framework for the protection of witnesses was passed without amendment by the National Assembly on Friday evening despite arguments by the parliamentary opposition that it failed to take into account modern challenges.