A security guard was yesterday remanded after he appeared before a city court to face a murder charge stemming from a fatal confrontation with a labourer, who police say stole from him.
Fifty-three-year-old Kelvin Chisholm, of 5 Water Street, Kingston, was not required to plead to the charge which alleged that he, on May 1, murdered 34-year-old Nigel Lawson of Camp Street.
According to Prosecutor Bharat Mangru, Chisholm is a security guard employed at a private residence in South Cummingsburg while Lawson did odd jobs in the area. At about 7:45 PM on May 1, Chisholm confronted Lawson on Quamina Street about a missing cellphone and an iPod.
According to a release issued by the Guyana Police Force (GPF) last week, the security guard had been on duty when he decided to make rounds around the compound, leaving his iPod and cellphone on a chair in front of the building.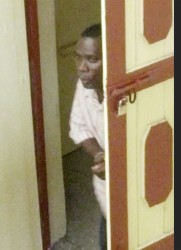 On his return to the front, the release said, the guard saw Lawson leaving the compound while his possessions were noticeably missing. An argument ensued between the two men and quickly developed into a physical altercation, during which Lawson was stabbed. The missing items were retrieved from Lawson by the security guard, the GPF said.
Lawson was pronounced dead on arrival at the Georgetown Public Hospital (GPH).
Prior to the police statement on the murder, previous reports had indicated that the altercation had stemmed from dumping of garbage in front of Chisholm's workplace by Lawson. According to an eyewitness, Lawson had been walking in an eastern direction along Quamina Street when he was passed by the security guard on a bicycle who ordered him to move a bag of dumped garbage.
An eyewitness had said that there had been a fight between the men over garbage when the guard got angry and started to "juk" Lawson to his chest before riding away.
Prosecutor Mangru told the court yesterday that the police's investigations are incomplete. Additionally, he said, no advice has been received so far from the Director of Public Prosecutions (DPP).
The guard was remanded to prison until May 16, when he will make another appearance before Chief Magistrate Priya Sewnarine-Beharry for reports and fixtures.
Comments
The National Agricultural Research and Extension Institute (NAREI) has utilised a number of new banana lines which are most likely resistant to the Black Sigatoka Disease.
Secretary-General of the Caribbean Community (CARICOM) Ambassador Irwin LaRocque has urged Sweden to use its position in two major international organisations to highlight the "unfair labelling" of some of the Community's Member States as "non-cooperative tax jurisdictions".

First Lady, Sandra Granger, yesterday, met with members of the Covenant Home for Children, a United States-based charity, which is registered in California and focuses on the homeless, runaway, abandoned, abused, trafficked, or exploited youth of Guyana.

Allen Chastanet   CASTRIES, St. Lucia, (Reuters) – The prime minister of the small Caribbean country of St.
Dear Editor, Kindly publish my response, as follows, with regard to an anonymous letter published by the Guyana Chronicle on Wednesday, August 16, 2017, under the caption 'Will the Auditor General investigate the deputy chief elections officer?' Editor, this letter is the second deliberate attempt aimed at besmirching my integrity, obviously with clandestine objectives.