Errol Khan, 38, known as Venood Maraj, is wanted by the police for questioning in relation to the murder of fisherman Chetram Bharat which occurred on May 2, 2014, at Haslington, ECD.
Police say that anyone with information that may lead to the arrest of Khan is asked to contact the police on telephone numbers 225-6411, 225-2227, 229-2701 to 2703, 229-2557, 911 or the nearest police station.
His last known address is Lot 72 Blossom Scheme, ECD.
Police say that all information will be treated in strict confidence.
Bharat's wife Lomattie Ramdat, who sustained several chop wounds about her body during the attack on Bharat, is recovering.
The attack had originally been thought to be a robbery but it is now believed that it was carried out because of a soured relationship between Ramdat and Khan.
Initial investigations indicated that two men armed with cutlasses entered Bharat's home, which he shared with Ramdat, 36, through a window.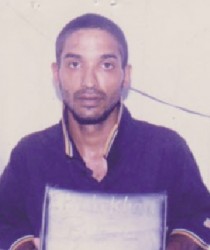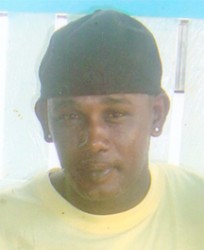 "The men demanded cash and jewellery, during which the two victims were chopped about their bodies," police added.
Speaking with Stabroek News, the couple's neighbour said he was awakened by the sound of a woman calling for him at about 3:30am on May 2. The man added that he was reluctant to answer the call but he decided to answer after the caller persisted. "I went to my front door, and there was my neighbour with blood all over her skin," the man said before adding that Ramdat informed him that she and her husband had been attacked by thieves who demanded $500,000.
He further stated that the woman told him her husband had been severely chopped by the men and said she feared he might be dead. The man said it was at this point he called out the other neighbours and the police were later summoned.
Stabroek News was told that Bharat succumbed to his injuries while still in bed.
Ramdat's sister, Anita Goberdan, said she suspected her sister's former lover to be the attacker. Goberdan said Ramdat's former lover had threatened to kill her children.
As a result, the 17-year-old girl and the 18-year-old boy both moved in with Goberdan out of fear. "Them children scared to go to the house because of the man she had," Goberdan said.
She said after Bharrat returned from Suriname two weeks ago, he and Ramdat reconciled and she left her lover, who was angered by the turn of events.
Goberdan described Bharat as a hardworking man who would never neglect the well-being of his family. She said he and her sister had been together for 22 years and Bharat worked as a fisherman in Suriname for the past 18 years.
Comments

UN experts condemn racist violence in U.S., urge investigations GENEVA, (Reuters) – United Nations human rights experts called on the United States today to combat rising racist violence and xenophobia and to prosecute perpetrators of hate crimes.

The twin-engine Beechcraft seized by authorities on an improvised airstrip on Sunday in the North Rupununi, Region Nine area, was yesterday confirmed as bearing a registration number belonging to an investment company in Brazil.

ExxonMobil yesterday signed a deal with Guyana Shore Base Inc (GYSBI) for an onshore support facility at Houston on the East Bank of Demerara.
While students who sat Caribbean Examination Council (CXC) exams in May and June of this year will be able to access their results online on Friday, the Ministry of Education has already announced that Guyana has recorded a 7% increase in passes at the Caribbean Advanced Proficiency Examinations (CAPE).

A post-mortem examination is expected to be done today to determine the cause of death of a nine-month-old baby, who died on Monday after she was left in a car.