A sex worker was yesterday remanded to prison for allegedly robbing a man of a cellphone and cash.
Junior Miller, a transgender woman also known as 'Alisha,' 27, appeared before Chief Magistrate Priya Sewnarine-Beharry, where she pleaded not guilty to the charge.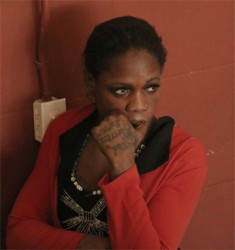 According to Prosecutor Bharat Mangru, on April 27th, around 10pm, Intiaz Bacchus was approached by Alisha, who dealt him a blow to his head. Mangru related that Alisha then held onto Bacchus' shirt and took his phone, worth $70,000, while an unknown other person relieved him of $10,000 cash from his pocket.
Defence Counsel Paul Fung-a-Fat rejected the submission made by Mangru, claiming that it was a "total fabrication." He also related to the court that even though Alisha has undergone a male to female surgery, she had been placed among male inmates.
Mangru objected to bail for the accused based on the seriousness of the matter and also because it was his belief that Alisha would not return to court if released.
As a result, Alisha was remanded to prison until May 19th, when the case will be called before Magistrate Judy Latchman.
Comments

(ICC) Antigua and Barbuda, Guyana and St Lucia were today announced by the International Cricket Council (ICC) as the venues for the ICC Women's World Twenty20 2018, which will be staged from 9-24 November.

The sugar union, GAWU today said that more sugar workers are to be made redundant.

(Trinidad Guardian) Education Minister Anthony Garcia says the University of Trinidad and Tobago (UTT) is of the view that the organisation is "overstaffed and to run the university efficiently it will mean they have to trim fat." But former Tertiary Education Minister Fazal Karim is warning that the decision to retrench 287 staff members, will "compromise the quality of teaching and learning and administration at the university," and may impact its accreditation with the Accreditation Council of Trinidad and Tobago (ACTT).

In preparation for Guyana's emerging oil and gas sector and the bustling business usually synonymous with the industry, the Pegasus Hotel is expected to undergo a huge expansion which includes office and residential rental spaces.

Police Commissioner Seelall Persaud is to resume his duties today after spending approximately six months on leave, Public Security Minister Khemraj Ramjattan yesterday confirmed to Stabroek News.