DELHI, India, CMC – Darren Sammy says his decision to quit Test cricket came after he realised he was no longer part of the future plans of the West Indies team, in the game's longer version.
The Windward Islands all-rounder, who was axed as captain last Friday after nearly four years in charge, said he "had no choice" but to retire after speaking to West Indies selectors and hearing the opinions of the team and its management.
"It was something I thought about after I discussed with the selectors. After listening to the management and teams' views about the way they needed to move to the next level in Test cricket, I understood that my role wasn't needed as captain or player. This was the way forward," Sammy said here.
"Now West Indies cricket is at a new dispensation. It has a new force and direction and I am no longer required to play a role in Tests. I had no choice but to retire from Test cricket."
Sammy sent shockwaves through the Caribbean when he announced his retirement from Tests late last Friday. The decision came just hours after the West Indies Cricket Board axed him as captain in favour of wicketkeeper Denesh Ramdin.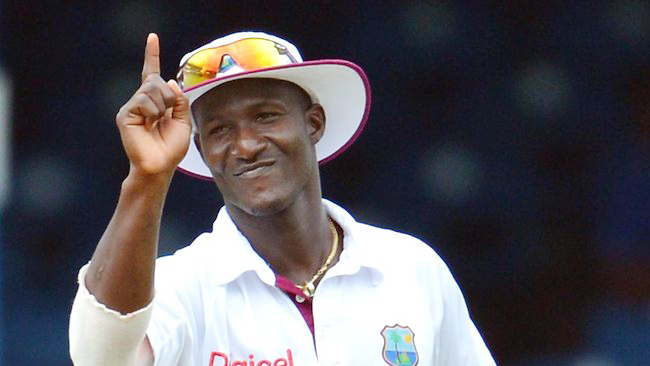 He remains Twenty20 captain and available for selection to the one-day team.
The 30-year-old, who is currently involved in his second season in the Indian Premier League where he turns out for Sunrisers Hyderabad, dismissed suggestions his involvement in the lucrative Twenty20 tournament had influenced his retirement.
"I am having a great time in IPL. But my decision was not based on IPL or things like this," Sammy stressed.
"It was solely on the direction the Test team was heading and there were no plans for me as a captain and as a player."
Sammy was appointed West Indies captain in November, 2010 following Chris Gayle's tenure, and has been credited with returning stability and discipline to the side.
However, his personal record – he averages 21 with the bat and 35 with the ball – came under constant scrutiny along with West Indies' continuing struggles in Test cricket. Heavy losses to India in New Zealand on away tours last year increased the pressure on Sammy.
His axing as Test captain comes a year after he was also relieved of his duties as one-day captain, with experienced all-rounder Dwayne Bravo taking over at the helm.
Sammy said it was important to deal with change when it occurred.
"It is not about right or wrong. I was captain at point of stage of all formats. I was asked to captain at a time when the team needed stability. Change is inevitable," he pointed out.
"Sometimes we might not like it. Sometimes we may not agree with but we have to accept it."
Sammy led West Indies in 30 of his 38 Tests, finishing with eight wins, 12 defeats and 10 draws.
Comments

A jet plane flies by the total solar eclipse in Guernsey, Wyoming U.S.

Superstar opener Chris Gayle … returns to the West Indies side for the first time in over two years.

The Church Street hotel and casino Hotelier Clifton Bacchus today filed a $2 billion lawsuit against the state-owned Guyana Chronicle newspaper following its publication of two recent articles which he has described as "highly defamatory." Guyana National Newspapers Limited, which is the publisher of the Guyana Chronicle, and the editor of the Guyana Chronicle were listed as the defendants in the suit, which was filed by a team of lawyers headed by former Attorney-General Anil Nandlall.

LONDON, (Reuters) – The gradual decline of West Indian cricket is hardly a new phenomenon but the latest capitulation of a once-dominant test match power has brought genuine expressions of sadness throughout the sport.

Eleven residents of the juvenile correctional centre at Onderneeming on the Essequibo Coast were apprehended between yesterday and this morning.