Seon Blair's "mistakes" yesterday earned him a two-year prison sentence.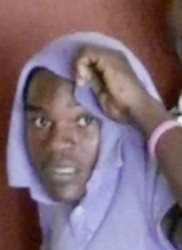 Blair recently admitted to stealing more than $70,000 in clothes and electronics from a Kitty home, for which he was sentenced on Friday by Chief Magistrate Priya Sewnarine-Beharry.
Prior to his sentencing, a probation report that was ordered by the Chief Magistrate when Blair first appeared before her facing the larceny charge, was presented.
Blair was previously sentenced on two separate occasions for 12 months and one month for matters of a similar nature.
According to the report, present by Probation Officer Joseph, Blair, who never completed school found it difficult to maintain a job and preferred to steal rather than earn what he wanted. The probation officer also related to the court that Blair indulged in illegal narcotics and often smoked these substances in the presence of his children.
In an attempt to explain his actions to the Magistrate during his arraignment, Blair had said "Sometimes the devil busy…." He added, "I aint gon lie; everybody does make mistakes."
Comments

(Trinidad Guardian) Education Minister Anthony Garcia says the University of Trinidad and Tobago (UTT) is of the view that the organisation is "overstaffed and to run the university efficiently it will mean they have to trim fat." But former Tertiary Education Minister Fazal Karim is warning that the decision to retrench 287 staff members, will "compromise the quality of teaching and learning and administration at the university," and may impact its accreditation with the Accreditation Council of Trinidad and Tobago (ACTT).

In preparation for Guyana's emerging oil and gas sector and the bustling business usually synonymous with the industry, the Pegasus Hotel is expected to undergo a huge expansion which includes office and residential rental spaces.

Police Commissioner Seelall Persaud is to resume his duties today after spending approximately six months on leave, Public Security Minister Khemraj Ramjattan yesterday confirmed to Stabroek News.
The Alliance For Change (AFC) yesterday launched a scathing attack on the union GAWU, accusing it of decades of sabotage of the sugar industry and not genuinely representing the interests of its workers.

The importance of foot health, especially for persons with diabetes, was emphasized by Podologist Yvonne Braithwaite yesterday, when she launched the local leg of Rovon Health Care Inc, which includes a foot spa.