The prosecution and defence in the Sade Stoby murder trial made their closing arguments before Justice Navindra Singh in the High Court when the trial continued yesterday.
Today, Justice Singh will sum up the evidence in the case after which he will hand it over to the jury for consideration and deliberation.
On trial before Justice Singh and a 12-member jury are Jevon Wharton, 23, and Charles Cush, 21, both of Mocha Arcadia. The two were 16 and 14 years old, respectively when they were charged.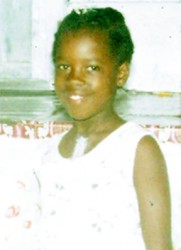 Attorney Raymond Alli is appearing for the number one accused Wharton, while attorney George Thomas is representing Cush.
According to reports, on Friday November 2, 2007, Stoby left school after it was dismissed, headed for her Barnwell North, Mocha Arcadia home; she never arrived. Days later, her father, Eric Stoby and brother, Karlon Stoby, who were searching for her, found her body a short distance from her home. She had been brutally murdered.
Stoby's father, Eric Stoby, had testified via audio/video link from the US and recounted finding his daughter's body in a trench. He told the court that he had left home early in the morning and gone to the Sixth Field Bridge, where he detected a foul odour. He added that on following the odour and the imaginary calls of his daughter, he subsequently found her body in a drain with her uniform pulled up to her waist. She was not wearing any underwear.
When called to lead their defence, both accused had denied raping or murdering Stoby after no-case submissions made by their lawyers were overruled.
In her closing arguments, Senior State Counsel Judith Gildharie-Mursalin told the court that it was the time for justice for Stoby. "She [Stoby] would have celebrated her 16th birthday on August 1st and would have been writing CXC. The police robbed Cush of his life? What about Stoby's life?" she questioned.
Thomas in his closing arguments said that while there was evidence that points to rape, "Where is the evidence they inflicted the injuries?"
Comments

The improvised weapons (Prisons photo) Prison Staff this morning with the support of the members of the other services, reported for duty at the new holding area lusignan Prison.

Nicolas Maduro CARACAS/LIMA, (Reuters) – A group of 12 regional nations plus the United States rejected Venezuela's new government-allied legislative superbody, saying they would continue to regard the opposition-controlled congress as the country's only legitimate law maker.

Eighteen prisoners at the Lusignan penitentiary were being treated for injuries last night following a reported attempt to kill a fellow inmate during which warders fired shots.

A 12-year-old girl is now dead, while her brother narrowly escaped a similar fate yesterday after their aunt's La Bonne Intention (LBI), East Coast Demerara house, which they were under, collapsed on them.

Guyana has officially applied for membership in the European Union's Extractive Industries Transparency Initiative (EITI) which will help in tracking revenues from oil and other natural resources.