Two weeks after the death of a Parika man, who was killed after being hit by a taxi driver on the Parika Public Road, his mother says that she is dissatisfied with the investigation.
Rajkumarie Shaw, the mother of Shafeek Shaw, told Stabroek News that police officers are not doing any proper investigation and that they are taking too long.
Shafeek Shaw was struck by a Toyota Spacio HC 3449, while walking on the Bushy Park Public Road at approximately 12am. He was taken to the Leonora Cottage hospital where he was pronounced dead on arrival.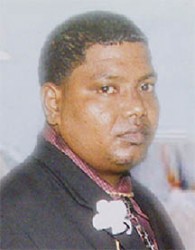 According to the post mortem report, Shaw died of multiple injuries.
At the time of the accident, Rajkumarie said, there were four witnesses—three boys and one girl—but the police officers are telling her that there are no witnesses. The Police Public Relations Office told Stabroek News that investigations are still ongoing and no other information can be offered.
Comments

Jerry Lewis   LOS ANGELES,  (Reuters) – Jerry Lewis, the high prince of low-brow comedy on stage and in movies as well as a fund-raising powerhouse with his annual Labor Day telethon, died today of "natural causes" at the age of 91, his family said.

Beharry Automotive Limited (BAL) , the authorised distributor for Toyota parts and lubricants, says that an abundance  of imitation Toyota parts and lubricants have entered the market with the Toyota logo and trademark.

Grace Mugabe   HARARE,  (Reuters) – Zimbabwe's first lady Grace Mugabe returned from South Africa early today, state media reported, after a 20-year-old model accused her of assault in an upmarket Johannesburg hotel room.

Michael Bhopaul, 16, doesn't know if he is this year's best performer at    the Caribbean Secondary Examination Certificate (CSEC) Examinations, but with preliminary results showing that he has obtained passes in 25 subjects, he will be hard to top.

Inmates at the Lusignan Prison turned over 33 improvised weapons yesterday morning to prison authorities, who say that they also apologised to the prison staff for the unrest at the facility on Friday night.