Educator and cultural icon Basil Cuthbert Rodrigues, 81, was yesterday laid to rest in his home village of Moruca in the north west following a short service at the Cathedral of the Immaculate Conception, Brickdam in the morning.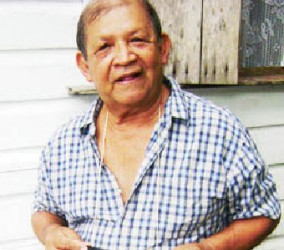 The Government Information Agency (GINA) said that delivering the eulogy, Minister of Foreign Affairs Carolyn Rodrigues-Birkett focused on the national awardee's life and contribution to the nation. He spent more than 40 years teaching and dedicating even more to his music.
GINA said that Rodrigues traced his life from Santa Rosa to Waini where he was schooled by Roman Catholic nuns and began his musical life.
A series of tributes also lauded Rodrigues' work and life over the years. Minister of Culture Youth and Sport, Dr. Frank Anthony expressed sadness on behalf of himself and the staff of the Ministry, GINA said.
Rodrigues was born on June 13, 1932 at Bullet Tree, Waini River before moving in 1940 to Santa Rosa to attend primary school. His wife recalled for Stabroek News last week that he was propelled into a career in teaching as a result of music. "He loved singing and playing his music," she recalled. His mother felt that he was wasting his time and with the help of the Catholic Church, he was sent to teach at Karaudarnau, Deep South Rupununi. He was 19.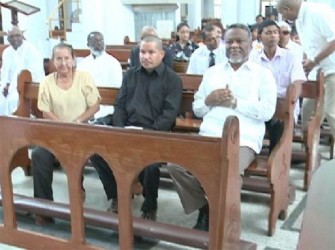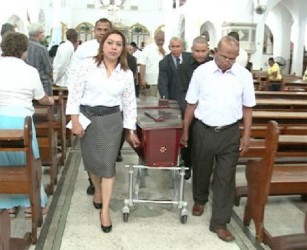 Rodrigues, in an interview with Stabroek News in 2010, recalled that while he took with him his love for guitar playing, adjusting to a different environment where little English was used was difficult. He said he was often lonely and found that he could not fit in. However, in 1954, he moved to Shea, another community in the Deep South, as head teacher with the aim of opening a primary school. He recounted climbing Shea Rock and using that time to reflect on life. "The geography of the land presented an ideal place to learn, reminisce and discover," he had said. It was while there that he realised that he could compose songs on life of the people in the Rupununi, their heritage, beliefs and the tough life they lived.
Therefore after work, he would try to fit his compositions to Samba, a music form which was often played there. "I found as a teacher, the children used to be more interested in this new form of music and it helped because I could not get them to understand how I operated as a teacher," he had said. Rodrigues wrote songs, skits and dances that the smallest child could join in and perform. Even though the Wapishana language was difficult for him, he was determined to learn it and managed to write many of his skits in this language. He learned the language and spoke it well, Delores said.
Rodrigues spent almost 25 years in Shea and during this period married Dolores familiarly called Aunty Dolly. The teachers of that period were exceptional and during the school vacation, they would gather from the various villages where they were stationed and perform a needed community project such as building a bridge, Dolores recalled. "They went and opened up all these villages," she said.
The couple subsequently moved to Aishalton, another village in the Deep South, and spent 11 years teaching there. By then, Rodrigues owned a herd of cattle. However, his health began to deteriorate amidst the lack of proper medical facilities and people started to get into the habit of cattle rustling, and these factors led to a decision to return to Moruca.
Rodrigues was the recipient of two national awards namely the Medal of Service given to him in 1991 for his community work in the Rupununi; and the Golden Arrow of Achievement which was bestowed on him in 1998 for his teaching and musical endeavours. In 2012, he was one of four persons whose name was inscribed on Moruca's Heroes Monument.
Comments

A sketch of the proposed Curepe Interchange (Trinidad Guardian) China Railway Construction Corporation (CRCC) has been awarded a $221.7 million contract by the National infrastructure Development Company (Nidco) to build the controversial Curepe Interchange, the state company's chairman Herbert George has confirmed.

Legal Advisor to the Police, retired Justice of Appeal, Claudette Singh yesterday testified that there was insufficient evidence in the allegation made by Andriff Gillard of an alleged plot to assassinate President David Granger.

Today at 2 pm the 30 councillors of the Georgetown City Council will once again cast a vote on the future of metered parking in the city and several of them have told Stabroek News that they want to be sure their vote accurately represents a mandate from residents.

Crime Chief Wendell Blanhum yesterday made a written request to be recalled before the Commission of Inquiry (CoI) investigating the allegation of a plot to kill the President of Guyana to defend himself against "appalling" statements made by Assistant Commissioner of Police David Ramnarine.

Two men were yesterday remanded to prison by a city magistrate after they were charged with the fatal stabbing of Rawle Rodrigues which occurred in January.