-held after months on the run
After being on the run for months, a man accused of disfiguring his former partner by dousing her with a corrosive substance was yesterday remanded to prison.
Jermaine King, 38, of 35 East Ruimveldt had evaded police capture since November after he allegedly doused his then-girlfriend, Anchinalu Canning, in front of her D'urban Street home.
Yesterday, before Chief Magistrate Priya Sewnarine-Beharry at the Georgetown Magistrates' Courts, King, a miner and father of three, was charged with grievously wounding the woman with intent to commit murder. According to Prosecutor Gordon Mansfield, on November 16th, 2013, Canning had been coming out of her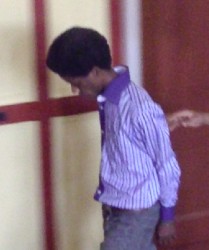 house when she was approached by King. The man had requested to speak with the woman and she obliged and followed him to his car. However, instead of talking, King removed a container and threw its contents on his partner. He quickly fled the scene and managed to avoid apprehension until May 12.
Prosecutor Mansfield objected to bail and stated that the defendant was a flight risk. "The accused was obviously avoiding apprehension," he told the court.
However, King's attorney refuted the claim and emphasised that her client was not a flight risk. King, she said, was willing to lodge his passports and any other travel documents.
Canning, who was present during the court proceedings, bore obvious signs of disfigurement to her face, arms and her chest.
Magistrate Sewnarine-Beharry ordered Prosecutor Mansfield to send the case file for advice and return in two weeks' time. King, meanwhile, was ordered remanded until May 28.
Comments

Several candidates recorded outstanding performances at this year's Caribbean Advanced Proficiency Examination (CAPE).

 Geometric improvements will be carried out on the East Coast Railway Embankment Road come September for smoother traffic flow.
Swift action by the Law Enforcement and Investigation Division (LEID) of the Guyana Revenue Authority (GRA) aided in the removal of a large quantity of seized foreign chicken from two separate cold storage facilities in the Berbice area after it was discovered that the commodities were unlawfully being disposed of, the GRA said today.

Farha Faiz, a lawyer, speaks with the media after a verdict for the controversial Muslim quick divorce law outside the Supreme Court in New Delhi, India August 22, 2017.  

Defeat Tallawahs by 37 runs Chris Gayle, playing in his 50th CPL match, produced his 63rd T20 fifty as St Kitts & Nevis Patriots cruised past Jamaica Tallawahs by 37 runs to guarantee a place in the playoffs for the first time in their three-year history.