Parents, whose children attend the Gibson Primary School at Unity, Mahaica are disgusted at its deplorable condition and complained that electrical wires are exposed thus posing a danger to the children.
They called on the authorities to fix the problems urgently, lamenting that if their children are injured as a result of the electrical wires, no one would want to take responsibility.
The parents, who requested that their names not be mentioned, pointed out that "one side of the school doesn't have windows and water would splash into a classroom and leak down in the class below."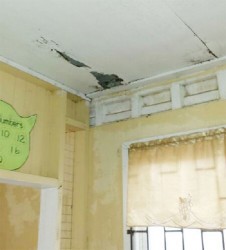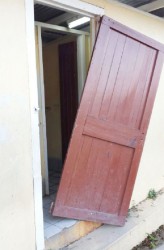 According to the parents, students from both classes then have to move until the rain is over. The ceiling is also rotten.
The parents also said there is only one toilet each for boys and girls and that the girls' toilet is broken and has been left on the floor. They also said that the school is over-populated.
The parents have made reports to the Region Four administration but so far no one has come forward to investigate.
They pointed out that the school needs to be extended or replaced with a new one.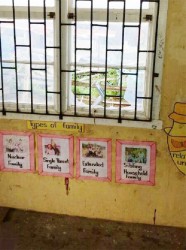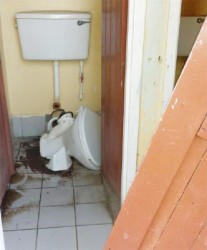 Comments

Alliance for Change (AFC) leader Raphael Trotman yesterday said the diversion of billions to the security sector after the destruction of the Camp Street prison was partly responsible for the government not budgeting the full sum for severance payments to laid off sugar workers.

The police were up to yesterday afternoon still working to ascertain the motive behind the murders of Ambrose Baharally and Martin Godette, the Pomeroon farmers who were shot dead on Sunday and a potential witness was taken into custody to assist with the investigation.

Former President Donald Ramotar has accused the current government of accepting loans from India that he initiated except those pertaining to the rehabilitation of the sugar industry but State Minister Joseph Harmon says he is unaware of the claim and has urged that the former head of state prove it.

Omadat Persaud, who was on trial for raping a five-year-old girl in 2015, was yesterday afternoon sentenced to 45 years in jail after a jury unanimously convicted him of the crime.

The mother of Marlon Fredericks, the mentally-challenged vendor who was fatally shot by a member of the city constabulary on Sunday, yesterday called for justice for her son, while saying that an autopsy found that he died of a gunshot wound to his chest.