-Ramjattan to step up efforts as Indian election concluded

Work on the Specialty Hospital – to be funded by an Indian line of credit – has gone beyond the sum fortuitously voted for it last year, the opposition has charged, and the Alliance for Change is to up its efforts against the project following the conclusion of India's general election.
"We now know that with the Modi government (Prime Minister elect Narenda Modi) they are going to stop that contract because (Indian contractor) Surendra doesn't know to build a building much less a specialty hospital," Leader of the AFC Khemraj Ramjattan told Stabroek News yesterday.
"We are going to be submitting questions to our parliament to find out where money is coming from for all that work that is going on up there because that is not $35M in works …it is coming from (government holding company) NICIL or someplace unknown," he charged.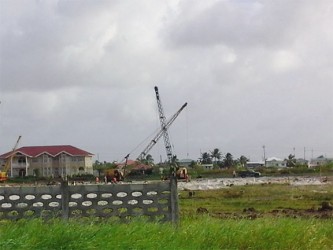 During this year's consideration of the budget estimates the opposition voted down a $1.3 billion allocation for the health sector that included $910M financing for the specialty hospital at Turkeyen. The opposition had also vetoed last's year's proposals of $1.25B.
Main opposition, APNU had pointed to the government's lack of dialogue on the opposition's concerns that the formulation of the deal was not transparent, while the AFC pointed out that Surendra Engineering was responsible for defects at the Enmore Sugar Packaging Plant and also that it had never before built a hospital before.
However, at the December 12, 2013 sitting of the National Assembly, government managed to secure approval of $34.4M for the project owing to the absence of APNU member Volda Lawrence during the vote.
This paved the way for foundation works for the hospital to commence in January this year, for which BK International was hired by Surendra Engineering. However, the works appear to have gone much further.
Stabroek News has made several visits to the site but workers have referred all questions to Surendra Engineering. However to date calls to Surendra's representative in Guyana have yielded no answers.
Both Ramjattan and APNU's Shadow Finance Minister Carl Greenidge told Stabroek News yesterday that government will have to answer questions on where monies for additional works at the site was coming from since it was obvious that the $34M had long been exhausted.
"I think this is why this government is hurrying to complete works to say 'Hey look how much work has been done. We spent so much let it go on' but no they will have to answer," Ramjattan stressed.
"Where the money is coming from I don't know but NICIL has big monies, lotto funds get monies there are places they taking that money from," he added.
He informed that very soon he will be once again speaking with Indian Parliamentarian, former cricketer, Kirti Azad on what would be the government's next move. Azad is a MP for the Bharatiya Janata Party which won India's elections and is expected to be retained.
"The new government (will be) looking at a lot of corruption issues and among them is this specialty hospital project and several others in other countries …they are going to take that to their parliament to ensure that their taxpayers' money are not corruptly spent and I want the same here," said the AFC leader.
Meanwhile, Greenidge said that his party's primary reason for rejecting the project was that it had too many corruption issues attached to it.
He said that APNU wants to reiterate to the populace that they would not be beneficiaries of the project since if they did not have the large sums to pay they would only be treated there at the discretion of the hospital's foreign managers.
Further, he pointed out that APNU was displeased that since its commencement the project has been sullied by charges of corruption.
"We want people to understand this, that hospital is not like GPHC or New Amsterdam …this hospital caters for people who have insurance in the US…no Guyanese can go there like at GPHC," he said.
"It will be owned by a foreign company, it will be run by a foreign company all the doctors and nurses are Indian nationals. The public seems to be sympathetic when they hear about hospital but it is not for them. It is for foreigners or those who can afford foreign rates…from the beginning to now here has been a lot of irregularities and lack of transparency," he added.
When Stabroek News visited the site yesterday no one was there but machines and other equipment were evidence that there had been a lot of work there in recent weeks.
Comments

MELBOURNE,  (Reuters) – Rafa Nadal's Australian Open quarter-final curse struck again on Tuesday, an injury forcing the top seed to retire in the fifth set against Croatia's Marin Cilic.

Several hundred more sugar workers are expected to be laid off from the Skeldon, Rose Hall, and East Demerara estates by next month and the Guyana Agricultural and General Workers Union (GAWU) yesterday urged that the decision be reviewed.

The commencement order establishing the Telecommunications Agency was signed last Friday, in anticipation of the liberalisation of the telecoms sector, Minister of Public Tele-communications Cathy Hughes announced yesterday.

Nickela Craig-Singh, the woman who was arrested last Friday after the Customs Anti-Narcotic Unit (CANU) found over 10 pounds of cocaine in the ceiling of her Soesdyke home, was yesterday sentenced to four years in prison and fined over $14 million after pleading guilty to possession of the drug.

Almost two weeks after he made a Facebook post in which he questioned whether the Indian High Commission was interfering in Guyana's internal affairs, Director of Public Information Imran Khan yesterday said that he regretted the "furore" his post created and admitted that it should have benefitted from "greater elegance or not have been made".