The Berbice Regional Health Authority (BRHA) has launched an investigation into the death of a mother of two yesterday, several hours following her discharge from the New Amsterdam Hospital after giving birth.
Marissa La Gourdoue, 24, a hairdresser of 41 Stanleytown, New Amsterdam was admitted to the hospital on Friday after she developed complications and gave birth prematurely to a baby boy shortly after she was admitted. She was some seven months into her gestation.
It was reported that during Friday night she developed additional complications which resulted in doctors giving her two pints of blood and medications to lower her blood pressure.
Candace Stewart, an aunt of the dead woman, recalled that her niece contacted her on Friday night via telephone and told her she needed blood.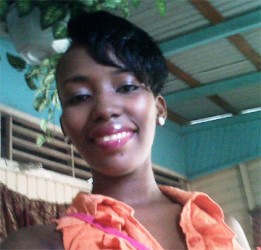 However, Stewart said, when she enquired if the family needed to go and give the blood, she was told that the blood was provided by the blood bank.
Stewart said they went to the hospital on Saturday and the baby and his mother appeared to be alright. However, she said, her niece was experiencing irregular blood pressure. The woman also noted that during her pregnancy, La Gourdoue had hypertension and swollen feet.
La Gourdoue was discharged from the hospital on Sunday afternoon.
Stewart explained that around 12 am yesterday, La Gourdoue woke up and took her four-year-old son to the washroom. When she did not return to bed, Stewart said, she enquired what was wrong and though her niece replied "nothing", something in her tone led her to go and check.
When she saw La Gourdoue, Stewart said, she was gasping for breath and asked to be taken to the hospital.
The family said the doctors who attended to her when she got there queried why she had been discharged.
According to the aunt, she was inside the emergency room with her niece until 4.15 am when she took her last breath.
Stewart said that during her last moments, La Gourdoue asked her to take care of her two children… and said, "Life left me ah gon dead."
The distraught aunt said her niece was pronounced dead sometime after.
The family is questioning what went wrong and called for a full investigation to be launched.
Efforts to contact hospital personnel for a comment proved futile.
However, Chief Executive Officer of the BRHA Dr Vishwa Mahadeo said a preliminary investigation has been launched. According to Mahadeo, he was informed of the incident yesterday morning and immediately launched an investigation. The CEO also stated that the Ministry of Health would conduct its own investigation.
La Gourdoue's baby is reported to healthy. When Stabroek News saw the baby he was being fed with a syringe by a relative.
A post-mortem examination is expected to performed on the woman's body today.
She also leaves to mourn three brothers, three sisters, parents and other relatives and friends.
Comments
Swift action by the Law Enforcement and Investigation Division (LEID) of the Guyana Revenue Authority (GRA) aided in the removal of a large quantity of seized foreign chicken from two separate cold storage facilities in the Berbice area after it was discovered that the commodities were unlawfully being disposed of, the GRA said today.

Farha Faiz, a lawyer, speaks with the media after a verdict for the controversial Muslim quick divorce law outside the Supreme Court in New Delhi, India August 22, 2017.  

Defeat Tallawahs by 37 runs Chris Gayle, playing in his 50th CPL match, produced his 63rd T20 fifty as St Kitts & Nevis Patriots cruised past Jamaica Tallawahs by 37 runs to guarantee a place in the playoffs for the first time in their three-year history.

The Guyana Football Federation (GFF) has officially selected the Boys and Girls teams which will represent the nation at the Inter-Guiana Games (IGG) Goodwill Series scheduled for Suriname from the August 25th– 27th.