The second accused in an armed Black Bush Polder (BBP) robbery, Vinod Gopaul, 24, who was captured during a police operation on Sunday evening was remanded to prison yesterday.
He appeared at the Albion Court before Magistrate Rabindranauth Singh charged with robbing BPP rice farmers, Baijnauth and Kalawattie Niwaz at gunpoint of $1.2M on April 22. The matter comes up again on June 9.
He was also slapped with a charge of escaping from lawful custody around 2:30 am on June 11, 2011 and is scheduled to return to court on June 3.
Police are also investigating similar matters against him and he is likely to face more charges soon. Gopaul and his brother, Krishendat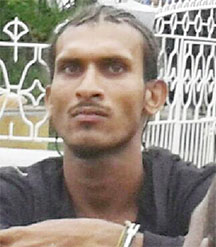 'Apple Boy' Seernarine are accused of robbing the Yakusari, BBP couple. They reportedly stormed the couple's home through the back door and attacked them before escaping with the cash.
The defendant was serving time in jail for the 2004 murder of his father after wresting a gun from the man and shooting him.
He was also among 18 prisoners who escaped from prison in 2007. He was recaptured shortly after and charged while some of the other prisoners were shot dead.
He escaped again in June 2011 along with notorious high seas pirate, Kevin 'Long Hair' Narine, Rickford Le Fleur and Vijay Seenarine of Skeldon.
Narine was arrested the following month in Suriname while Seenarine was recaptured while walking in Rose Hall.
Comments

Farha Faiz, a lawyer, speaks with the media after a verdict for the controversial Muslim quick divorce law outside the Supreme Court in New Delhi, India August 22, 2017.  

Defeat Tallawahs by 37 runs Chris Gayle, playing in his 50th CPL match, produced his 63rd T20 fifty as St Kitts & Nevis Patriots cruised past Jamaica Tallawahs by 37 runs to guarantee a place in the playoffs for the first time in their three-year history.

The Guyana Football Federation (GFF) has officially selected the Boys and Girls teams which will represent the nation at the Inter-Guiana Games (IGG) Goodwill Series scheduled for Suriname from the August 25th– 27th.

The Commission of Inquiry (CoI) into African ancestral land ownership began hearings yesterday with a significant portion of the first day's proceedings being dedicated to questions pertaining to the allocation of lots in the controversial 'Pradoville 2' Housing Scheme.