An autopsy report has revealed that 24-year-old Stanleytown hairdresser Marissa La Gourdoue died from a blood clot disorder after giving birth to a premature baby at the New Amsterdam Hospital.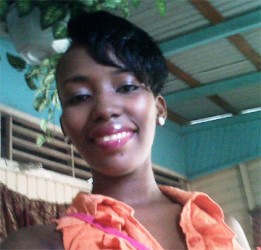 La Gourdoue was admitted to hospital Friday after she developed complications and gave birth to a baby boy seven months into her gestation. She was initially discharged but reportedly developed complications during Friday night and was readmitted to hospital where doctors gave her two pints of blood and medication to lower her blood pressure.
A post-mortem examination performed by pathologist Dr Vivekanand Bridgemohan yesterday revealed that the woman died from disseminated intravascular coagulation (DIC). According to online encyclopaedia Wikipedia, DIC "leads to the formation of small blood clots inside the blood vessels throughout the body. As the small clots consume coagulation proteins and platelets, normal coagulation is disrupted and abnormal bleeding occurs…." The blockage could cause disruption to vital organs and may lead to multiple organ failure which may lead to death, the encyclopaedia said.
The Berbice Regional health Authority (BRHA) had ordered an investigation into the woman's death and while investigations are still ongoing, this newspaper understands that a file has been submitted to the Director of Maternal and Child Care Health office at the health ministry in this regard.
Comments

(ICC) Antigua and Barbuda, Guyana and St Lucia were today announced by the International Cricket Council (ICC) as the venues for the ICC Women's World Twenty20 2018, which will be staged from 9-24 November.

The sugar union, GAWU today said that more sugar workers are to be made redundant.

(Trinidad Guardian) Education Minister Anthony Garcia says the University of Trinidad and Tobago (UTT) is of the view that the organisation is "overstaffed and to run the university efficiently it will mean they have to trim fat." But former Tertiary Education Minister Fazal Karim is warning that the decision to retrench 287 staff members, will "compromise the quality of teaching and learning and administration at the university," and may impact its accreditation with the Accreditation Council of Trinidad and Tobago (ACTT).

In preparation for Guyana's emerging oil and gas sector and the bustling business usually synonymous with the industry, the Pegasus Hotel is expected to undergo a huge expansion which includes office and residential rental spaces.

Police Commissioner Seelall Persaud is to resume his duties today after spending approximately six months on leave, Public Security Minister Khemraj Ramjattan yesterday confirmed to Stabroek News.