The Ministry of Public Works plans to build an additional river defence for Fort Island to preserve historical landmark Fort Zeelandia, which is located 16 kilometers from the mouth of the Essequibo River.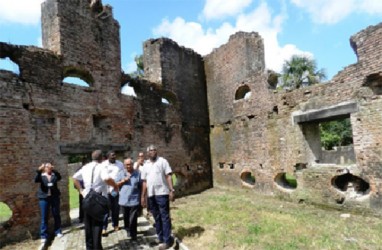 "We are in the process of mobilising the materials and manpower," Kevin Samad, Chief River and Sea Defence Officer was quoted as saying in a ministry statement, while noting that Minister of Public Works Robeson Benn has instructed that the work begin in one month's time.
In addition to that, other vulnerable areas that require intervention on the island will be corrected, it said.
The announcement followed a visit by Benn to the island on Wednesday for the ministry's monthly managers meeting, which was held in the historic Court of Policy (circa 1752) building.
According to the ministry statement, Benn opined that educational tours should recommence on the island.
"Fort Island is rich in history. Students from all levels of the school system should be able to walk through history, something that they could never experience in the classroom," he was quoted as saying.
It added that Benn intends to continue discussions with the Minister of Culture Dr. Frank Anthony on how to proceed with ideas for regeneration of activities on the island.
Comments

Michael Bhopaul, 16, doesn't know if he is this year's best performer at    the Caribbean Secondary Examination Certificate (CSEC) Examinations, but with preliminary results showing that he has obtained passes in 25 subjects, he will be hard to top.

Inmates at the Lusignan Prison turned over 33 improvised weapons yesterday morning to prison authorities, who say that they also apologised to the prison staff for the unrest at the facility on Friday night.

Well known Berbice attorney Chandra Sohan was arrested on Friday after he allegedly struck a pedestrian in a hit and run accident along the Williamsburg Public Road.

For a little more than an hour yesterday, the streets outside the Mackenzie Market rang with the voices of dozens of Linden residents who turned out to support a march against homosexuality.
The woman killed during the violent storm in Jawalla, Region Seven on Friday, has been identified as a mother of two, who was seven months pregnant.