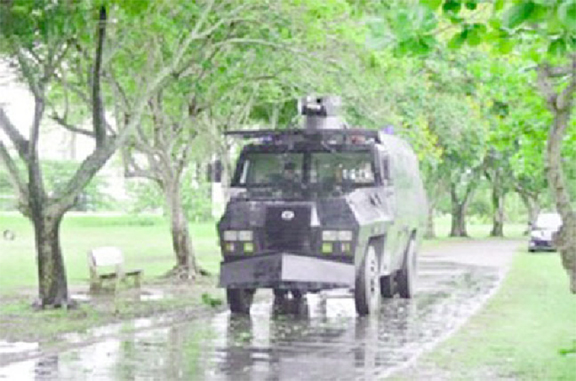 What has become of the $20.8M water cannon? For months now it has been parked on the drill tarmac at the Tactical Services Unit (TSU), Eve Leary and there has been no word from the Guyana Police Force or the Ministry of Home Affairs about its usefulness thus far.
It appears that the water cannon's main function has amounted to little more than providing a good shelter for animals. Several months ago this newspaper observed several dogs stretched out beneath it sheltering from the scorching sun.
A source told this newspaper that nothing is being done with the water cannon at the moment. "There is nothing to be done with it so it is just parked there," the source said, adding that it was "a waste of money because it never functioned."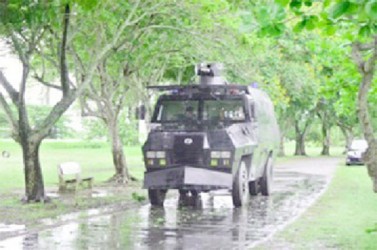 It was pointed out that nothing is happening to justify putting the water tender into operation, and in any case it has so far failed to function during two major disruptions.
According to another source, it may be more useful to fire-fighters than to the police. "Is best they send that thing to fire scene because it just deh at TSU park up," the source said.
Among the concerns expressed to Stabroek News was the fact that leaving the water cannon parked for extended periods could result in it deteriorating to the point where it becomes completely useless.
One source explained that the dozens of vehicles which are seized by police are a good example of how quickly a vehicle can deteriorate. The vehicles are parked in the compound at CID Headquarters, Eve Leary.
Within no time, said the source, these vehicles "start rotting and rotting… I don't know if it got anything to do with the salt from the ocean but it seems that the breeze coming from there is very corrosive." However, the source was of the view that it could not be the elements alone that were causing the metal parts on vehicles to corrode at such a fast rate. Whatever the cause, it was pointed out that the water cannon was parked not far from this area and there was a possibility that it could suffer a similar fate.
Asked what happens if a vehicle is parked for extended periods of time without being used, the source said that it would fall into disrepair. "To have a vehicle that is properly maintained, you gotta drive it around. There is no evidence of the water cannon being maintained," the source said.
As far as this newspaper can establish, the last time the cannon was used was in 2012 at Agricola.
Another source stated that the money would have been better spent to increase the force's fleet of vehicles or to improve the salaries of ranks. "Just imagine $20 million gone like that. You know how much thing dat money could do?" the source said, asking why a public consultation was not held or the force consulted before the piece of equipment was bought. "Even if it was a brand new one, it don't matter. We don't need that here," the source said. What was procured by the Ministry of Home Affairs was a second-hand piece of equipment.
It was noted too that the water cannon was procured for a totally different person. "Persons gotta look at when they bring this thing. Why didn't they buy it in 2009 or 2008? Why they had to buy it in the same year with elections?" the source asked. It was observed that at the time the equipment was acquired there were no signs of social disruption.
A security expert had told this newspaper that the multimillion dollar piece of equipment was clearly a waste of money and it would probably cost millions more to have it refurbished to a level of some sort of usefulness.
According to the expert, from all indications it was not bought in the best interests of the force.
The expert noted that Guyana has never had such a crowd-control tool before, and as such if there was any seriousness in its purchase, the training of ranks and information gathering from a reputable manufacturer would have been at the top of the list.
"The whole acquisition was wrong. It just didn't make any sense," the expert said, noting that Linden was another example of where it failed. Back in 2012, it had been transported to the mining town of Linden on a low-bed truck to help quell disturbances there. However it failed to live up to its purpose as water was leaking out of every opening. The police later attempted to use it during unrest in Agricola, but it was ineffective.
"It ready for the scrap yard. It wouldn't make any sense to rehabilitate it. It was a waste of the Guyanese money," the expert declared.
Last year then acting police commissioner Leroy Brumell who has since retired, had given the assurance it was working, despite some members of the force saying differently. Brumell had said that every Wednesday it was taken to the National Park where it was used in "drills" with firemen. It must be noted that this was not the reason behind the purchase of the equipment, which was acquired to quell disruptions such as riots. It was bought ahead of the 2011 general elections.
In a bid to quell the growing criticisms about its capability, the water cannon was given its first public demonstration in June, 2012. During the exercise which was held in the National Park, police recruits played the part of disorderly protestors. After a few missed firings, the force of the water hit the recruits and some were swept off their feet.
In May 2010, the Ministry invited persons to bid for the opportunity to provide the force with an armoured water cannon truck. $37M was set aside in the National Budget for its purchase.
It was later purchased by the Guyana Government from China for a much lower price, and was delivered here in 2011.
Minister Clement Rohee in response to questions submitted by APNU shadow home affairs minister Winston Felix told the National Assembly in July of that year that the water cannon was in working order and located at the TSU Drill Square at Eve Leary, Georgetown.
This newspaper was later told that it was out of operation for several months and had to be left parked on the tarmac at the Tactical Services Unit (TSU) because it needed a part. Sources had said that this was the reason why it was not in commission during an APNU protest shortly after the election in 2011 during which several persons were shot and injured by the police.
Comments

Fifteen city councillors voted yesterday in favour of accepting the recommendations of the parking meter renegotiation committee, which would see a reduction in parking fees to $150 per hour, exemptions for religious organisations and schools, and Smart City Solutions (SCS) giving up on their claim to garage parking.

A GDF rank was yesterday remanded to prison over three armed robbery charges and alleged possession of an unlicensed gun and ammunition.
Minister of Natural Resources and Leader of the Alliance for Change (AFC), Raphael Trotman on Monday praised ExxonMobil for investing in the oil sector here and said it is now resulting in other important companies wanting to do business here.

The city lance corporal, who on Sunday allegedly shot and killed Marlon Fredericks, a mentally-challenged vendor, after he reportedly attempted to flee custody is to be charged with manslaughter.

Former Magistrate and Univer-sity of the West Indies (UWI) lecturer Christopher Arif Bulkan was yesterday sworn in as a temporary Appellate Judge by President David Granger who said that the appointment is part of efforts to ensure that justice is dispensed in an efficient and timely manner.