Two Hong Kong businessmen, Victor How Chung Chan and Xu Han, were yesterday identified as the principals behind the private investment in the controversial Marriott Hotel, for which Republic Bank Limited in Trinidad announced long-awaited approval of US$27M in debt financing.
Atlantic Hotel Inc (AHI) and Republic Bank Ltd (RBL) made the announcement of the investors in a joint statement yesterday, just over eight months after executive Director of the National Industrial and Commercial Investment Limited (NICIL) Winston Brassington had disclosed that a private investor would be contributing US$8M towards the needed equity for the completion of the Marriott Hotel and would become the majority shareholder.
The controversial hotel project, which has faced intense criticism and scrutiny, was last scheduled to be opened by August. Although in recent months there has been a noticeable slowdown of works at the Kingston site, on-site consultants have told Stabroek News that interior works and drain-age were being worked on.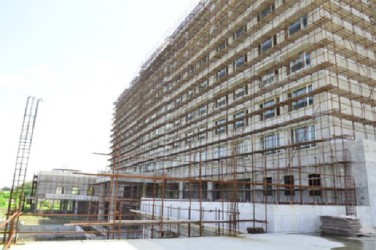 NICIL, the government holding company, had been the principal investor in AHI, which was incorporated in September 2009 for the specific purpose of pursuing the development of the Marriott project and the entertainment complex using the public-private partnership model. How-ever, British Virgin Islands-registered ACE Square Investments Ltd, of which Chan and Han are principal shareholders, will acquire 67% of the equity of AHI for US$8M. AHI and RBL yesterday said under the Hotel Manage-ment Agreement between Marriott and AHI, Marriott has consented to the transfer of the controlling interest of AHI from NICIL to ACE Square Investments Ltd.
The joint statement announced the completion of the financial arrangements by Republic Bank for a syndicated borrowing of US$27M in debt financing for AHI. "This is for the construction of the Marriott operated hotel and the shell of an Entertain-ment Complex," it said, while noting that Republic Bank, on behalf of its consortium of lenders, has received its approvals and the transaction is expected to be concluded shortly.
According to AHI and RBL, Ace Square Manage-ment Ltd, an affiliate company of ACE Square Investments Ltd, was selected to operate the Entertainment Complex and secure the outfitting cost, estimated at a minimum of US$4M. Additionally, they said Ace Square Management Ltd will guarantee a minimum financial performance of the Entertainment Complex, consistent with the October 31, 2012 Feasibility Study conducted by HVS International, which found that the project has an overall rate of return of 11%.
In addition, AHI and RBL identified Hong Kong businessmen Chan and Han as the beneficial owners of the shares in ACE Square Investments Ltd, and the owners of the shares in ACE Square Investments Ltd, through a BVI-registered holding company, Big Splendor Limited.
They described Chan as having diverse and substantial investment interests in both Hong Kong and China. He was listed as an Executive Director of the REXLOT Group and the single largest shareholder and Founder and Director of the REX Resources Group. The former is said to be the leading lottery system and
distribution company in China, with extensive operations in China's lottery market, through its local subsidiaries and international joint ventures, while the latter is said to be primarily engaged in gold, coal, rare earth and other metals, mining exploration and development, both in China and internationally.
AHI and RBL also said Chan is the leading investor and shareholder of China Gamma Group, which is listed on the main board of Hong Kong Stock Exchange, with a market capitalisation of over HK$600 million (approximately US$77M); and the founder of REXCAPITAL Partners, which is a private investment group with over HK$1billion in financial investments.
Han, they said, is a long-standing business associate of Chan and he holds graduate degrees from prominent US and Hong Kong universities. Additionally, they said he has over 30 years of global experience in both the public and private sectors, such as finance, gaming, and mining.
Up until yesterday's announcement, Brassington and NICIL have faced criticism for not naming the investor, after making commitments to do so last year. While not naming the investor, he had previously revealed that it had executed agreements with AHI to build the Marriott Hotel in Guyana and this was approved. Republic Bank Limited in Trinidad and Marriott International conducted an "intense" due diligence study. With the investor becoming the majority shareholder while only committing US$8M of the US$12M in equity for the US$58M project, he has faced criticism for the deal.
In all, Brassington has said, NICIL is responsible for putting just under US$20M into the project, including US$4M in equity.
Brassington had previously defended the government contribution to the project, explaining that the government's investment was needed to jumpstart the project. He had not commented on the contention that since public funds were being utilised that the public had a right to be told upfront about the identity of the investor, how monies were to be allocated and where additional financing was coming from.
Outside of financing, the project still faces another hurdle in the area of construction, since it will need to meet the standards of Marriott International in order for the branding to get approval. In November last year, Marriott International inspected a number of completed sample rooms and Brassington reported that its feedback was positive.
The use of labour from China for the initial construction work was controversial, although Brassington reported that this was a condition of the contract with contractor Shanghai Construction Group, which said it could lower its cost if it provided its own labour. Since then, local workers have been involved in advanced works.
The hotel, which will have 197 rooms and house a three-part entertainment complex including a restaurant, a casino and a nightclub, would be managed by the Marriott brand under a 30-year agreement once approved.
Comments

GEORGETOWN, Guyana,  CMC – Jason Mohammed completed his seventh first class hundred but there was little joy for Trinidad and Tobago Red Force as Guyana Jaguars needed a mere 45 deliveries to pull off an innings and 81-run win in their final round match here today.

LIMA, (Reuters) – Pope Francis wrapped up his trip to Chile and Peru today by warning that Latin America was in a deep crisis from corruption, with politics in most countries "more sick than well." Speaking in improvised remarks to bishops, he mentioned the scandal involving construction company Odebrecht, which has admitted to paying billions in bribes, as an example of greed run amok across the continent of his birth.

SYDNEY,  (Reuters) – England's Jos Buttler struck a belligerent unbeaten 100 to set up a 16-run win over Australia in the third one-day international on Sunday, as the touring side took an unassailable 3-0 lead in the five-match series.

The Public Procurement Commission (PPC) hopes that by the end of this year debarment legislation would be in place as it will soon begin meeting with stakeholders on a draft.

A bill to provide a legal framework for the protection of witnesses was passed without amendment by the National Assembly on Friday evening despite arguments by the parliamentary opposition that it failed to take into account modern challenges.