The mother of a baby kidnapped on Saturday on the Corentyne is calling on the public to provide any information it may have on the whereabouts of the child.
Sandra Mclean, 22 of #60 village Corentyne, Berbice, had her nine-day-old baby called 'Avi' spirited away in the vicinity of the Port Mourant Market on Saturday last. According to reports Mclean was making preparations for the ninth-day celebration for the child when Bibi Khan, a woman she met at the hospital, went to her home and told her to dress the baby as they were going to Rose Hall Town to get some items for the celebration. After the women finished shopping they stopped at Port Mourant Market to buy hassar and the woman disappeared with the baby after sending McLean to make the purchase.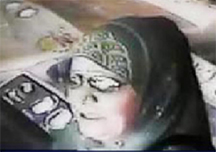 Surveillance footage of the alleged kidnapper in Rose Hall Town has been handed over to police in B Division to aid in their investigations.
Brian Joseph, Police commander B division said they have intensified the search for the baby.
Comments
The police say they are investigating a shooting incident which occurred about 11:20 am today at Leopold and Breda streets, Charlestown during which shop owner, Jacqueline Lagnah, 55, of 83 Leopold and Breda streets, sustained two suspected gunshot injuries to her lower back.

CARACAS/SAN CRISTOBAL, Venezuela,  (Reuters) – A wave of looting by hungry mobs across Venezuela has left streets of shuttered shops in provincial towns and pushed some store owners to arm themselves with guns and machetes, stirring fear that the turmoil could spread to the capital Caracas.

Taariq Stephens (New York Daily News photo) A Brooklyn man got a 41-year maximum prison sentence yesterday for killing a 16-year-old Guyanese girl who authorities said rejected his advances.

PRETORIA,  (Reuters) – Debutant Lungi Ngidi took six wickets as South Africa defeated India by 135 runs to claim victory in the second test in Pretoria today and also win the series with an unassailable 2-0 lead in the three-match contest.

(Trinidad Guardian) Environmental activist group Fishermen and Friends of the Sea (FFOS) has obtained an interim injunction barring the Government from continuing work on the first phase of the $400M Churchill Roosevelt Highway Extension to Manzanilla.