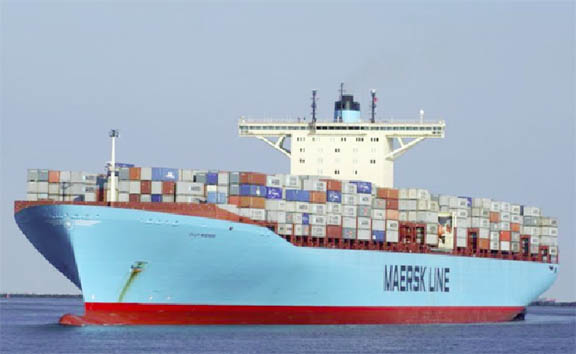 Danish container liner, Maersk has restarted shipping services to Port Georgetown and this time around it is looking especially at the export of containers stacked here to the Far East and to create a market for non-cargo stock.
"There is a booming market for export of materials to the Far East and they are looking to tap into that here …there is not enough containers to supply that market and Maersk is addressing that," Country Manager of Muneshwer's Shipping, Robin Muneshwer told Stabroek News in an interview yesterday.
Muneshwer's Shipping is the local agents for the Danish liner which will now have a bi weekly service to Guyana.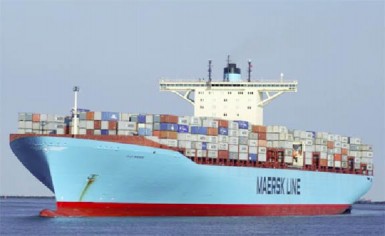 The Country Manager explained that in 2009 the liner had given up its service here due to the downturn in the global economy but has now restarted services to Guyana and other countries in South America as the financial crisis has eased. As such the company feels the time is right to offer a dedicated service to Guyana.
He said that Guyana has been importing a lot of its consumables from China and other parts of the Far East and the service now offered will see shippers and by extension buyers benefitting as the shipping prices will be competitive. "There are many benefits to the shippers because this service will keep freight rates competitive," he explained.
Goods will be shipped from those far eastern countries through the Panama Canal hub where they will then be fed to ports in South America such as Georgetown.
Maersk is also looking at tapping into the shipping of non-cargo items such as cars and fertilizers and local rice for the global market.
With many containers being stockpiled here, the company is also aiming to have them exported to countries, also in the Far East, where there is a demand for them. This, they said, will see needed export revenues being gained.
"This helps our local export community because you see those countries need the metal and containers and they are not getting enough so we are hoping that with export of those containers persons here will be gaining some cash," Muneshwer said.
Comments

SYDNEY,  (Reuters) – England's Jos Buttler struck a belligerent unbeaten 100 to set up a 16-run win over Australia in the third one-day international on Sunday, as the touring side took an unassailable 3-0 lead in the five-match series.

The Public Procurement Commission (PPC) hopes that by the end of this year debarment legislation would be in place as it will soon begin meeting with stakeholders on a draft.

A bill to provide a legal framework for the protection of witnesses was passed without amendment by the National Assembly on Friday evening despite arguments by the parliamentary opposition that it failed to take into account modern challenges.

The ownership of over $7 million in local and foreign currencies and several vehicles that were all seized during a raid by the Customs Anti-Narcotics Unit (CANU) at Soesdyke, East Bank Demerara on Friday has raised questions and a separate probe is expected to be launched.

Weeks after its major oil find at the offshore Ranger-1 well in the Stabroek Block, ExxonMobil's local subsidiary is preparing to begin drilling at the Pacora-1 well site in the same area.