Jason Cummings, the owner of the popular business Movie Zone, appeared before the courts yesterday charged with possessing the drug Ecstasy and was remanded to prison after denying the allegation.
Cummings, 31, of 337 East Ruimveldt, was brought before Magistrate Fabayo Azore charged with the possession of a gram of Ecstasy tablets on Saturday in East Ruimveldt. The man pleaded not guilty when the charge was read to him in the Georgetown Magistrates' Court Five.
Attorney Paul Fung-a-Fat represented the businessman and explained that his client was simply in the wrong place at the wrong time. According to the lawyer, Cummings had caught a taxi with three other persons and was on his way home when the vehicle was stopped during a roadblock. A search was conducted within the vehicle and the drug was found on the ground, Fung-a-Fat said.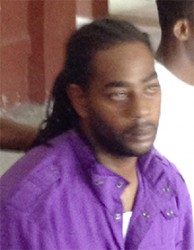 The lawyer further requested reasonable bail for Cummings and pointed out that the man had five children to take care of.
However, Prosecutor Deneashwar Maindranauth refuted the lawyer's version of the events. According to the prosecutor, the drug had been found in Cummings' pants pocket during a routine patrol in the East Ruimveldt area.
Maindranauth objected to bail, noting that the defence had raised no special reasons for the consideration of bail. In response, Fung-a-Fat explained that the charged quantity of the drug did not require any special reasons for bail.
Cummings was nevertheless remanded to prison until June 12 when his matter will be heard again.
Comments

Four weeks after passing a $267 billion budget for 2018, the National Assembly will debate a supplemental provision of $1.75 billion to meet a portion of the severance pay for around 4,000 sugar workers.

Autopsies performed on the bodies of Ambrose Baharally and Martin Godette, the Pomeroon farmers who were shot dead on Sunday, have found that both men died from gunshot injuries to the head.

The ground-breaking Whistleblower Protection Bill was passed in the National Assembly last evening without amendment, although there was opposition to the formulation of a commission to act as the governing body.

The preservation of land assets is essential to the creation of a green state and a good life for future generations, President David Granger said yesterday at the launch of a US$15M Sustainable Land Development and Management Project.

Contending that the previous administration failed to find sustainable ways to restructure the security sector and identify the root causes of crime, President David Granger yesterday said that government's determination to resuscitate the UK Security Sector Reform Action Plan (SSRP) is part of its efforts to take corrective action.