Charged with an early morning hit-and-run which ended the life of a man who had gone fishing, twenty-two-year old Seon Adams was yesterday released on $400,000 bail when he made his first court appearance.
Adams of 355 La Parfait Harmonie was brought before the courts for allegedly driving a car in a dangerous manner along the Railway Embankment, thereby causing the death of thirty-one-year-old Fizul Houssein, of Success. Adams denied the charge.
Adams also faced three other charges: failure to report the accident within 24 hours; failure to render assistance to the injured Houssein; and failure to stop the vehicle, HC 2231, following the accident.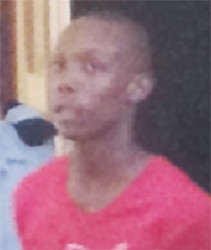 He also pleaded not guilty to these charges.
On the date in question, Adams was allegedly driving along the embankment proceeding west along the southern side of the road at a very fast rate, Prosecutor Bharat Mangru told the court. The driver's vehicle collided with Houssein who had been fishing while standing on the southern parapet. Instead of stopping, Mangru added, Adams drove off following the impact. Houssein suffered injuries and subsequently died from them.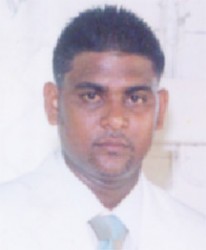 Though he raised no objections to bail, Prosecutor Mangru requested that it be set in a substantial figure.
Attorney Lennox Hanoman represented the defendant and explained that he did not understand how, at 4am, a man could be fishing. Nevertheless, he said, his client had indeed been driving and had heard a sound and stopped. However, he saw nothing and drove off.
The lawyer requested reasonable bail while emphasising that his client was not a flight risk.
Chief Magistrate Priya Sewnarine-Beharry set bail at $50,000 for the three summary charges and $250,000 for the causing death charge. Adams was also ordered to lodge his passport and report every Friday at 5pm to the police.
His next court date was set for June 20.
Houssein had been fishing early Independence Day with his uncle Kamalelvin Houssein. According to Kamalelvin, he had been casting his net in the trench when he heard a loud thud behind him. Fizul, who had been sitting on a nearby bucket, was nowhere to be seen, the uncle said. However, a "whitish" car was seen speeding away from the scene while the bucket lay shattered.
The man said he suspected that his nephew had been struck by the car, but could not locate where the body had landed after being hit.
Fizul's body was discovered shortly afterwards, submerged in the very trench he had been fishing in. He was later announced dead on arrival at the Georgetown Public Hospital.
Comments

Vamanadev Hiralall, of the privately-run Saraswati Vidya Niketan (SVN), is the country's top performer at this year's Caribbean Advanced Proficiency Examinations (CAPE) after achieving an accumulated 13 grade one and 3 grade two passes.

Twenty-six students in the top one percent of the 12,684 who sat this year's Caribbean Secondary Education Certification (CSEC) examinations earned 12 or more Grade I passes, with half of them, including the top performer, coming from Queen's College (QC).

On the second day of the Commission of Inquiry (CoI) into African ancestral lands and other matters, four witnesses made cases for the return of lands they feel they are rightly entitled to, which were either taken by the state or occupied by private owners.

Shelton George, the man charged with both murdering a waitress at a Chinese restaurant and the attempted murder of a magistrate, was found dead in his cell at the Lusignan Prison yesterday morning.

The Chairman of the Triumph Neighbourhood Democratic Council (NDC) yesterday instructed workers employed on a private site, reportedly intended to build a first-floor pool, to cease operations, just two days after residents called on authorities to halt its construction.