A security guard was yesterday accused of stealing $3.6M worth of milk powder from the bond he was tasked with guarding, after he was apparently recorded committing the crime.
Rudolph Mangal appeared before Chief Magistrate Priya Sewnarine-Beharry and denied that he, between May 25 and the following day, at Industrial Site, Ruimveldt broke into a bond and stole 120 bags of milk powder with the aid of his three sons. He was remanded to prison.
It is the police's case that on the evening of May 25, Mangal took a black plastic bag and placed it over a security camera in the bond. However, unknowing to him, the bag fell off of the camera. On review of the tape, Mangal was seen beckoning his three sons into the bond and raiding it with their assistance.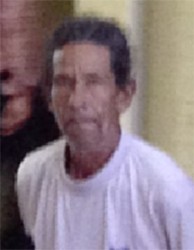 Prosecutor Bharat Mangru objected to bail and explained that investigations into other charges are being made. According to Mangru, there was another breakage and more charges are likely to be made. One of the sons, he added, was also arrested.
Mangru concluded that the quantity of the items involved as well as the penalty involved might deter Mangal from returning to court.
Mangal was ordered remanded to prison until the case is called again on June 6.
Comments

Michael Bhopaul, 16, doesn't know if he is this year's best performer at    the Caribbean Secondary Examination Certificate (CSEC) Examinations, but with preliminary results showing that he has obtained passes in 25 subjects, he will be hard to top.

Inmates at the Lusignan Prison turned over 33 improvised weapons yesterday morning to prison authorities, who say that they also apologised to the prison staff for the unrest at the facility on Friday night.

Well known Berbice attorney Chandra Sohan was arrested on Friday after he allegedly struck a pedestrian in a hit and run accident along the Williamsburg Public Road.

For a little more than an hour yesterday, the streets outside the Mackenzie Market rang with the voices of dozens of Linden residents who turned out to support a march against homosexuality.
The woman killed during the violent storm in Jawalla, Region Seven on Friday, has been identified as a mother of two, who was seven months pregnant.