St. Kitts and Nevis is looking to replicate some of Guyana's successes in healthcare, especially dialysis treatment, according to Minister of Health in the Nevis Island Administra-tion Mark Brantley.
Brantley yesterday ended a three-day visit to Guyana intended to forge health care ties between the two nations.
The minister arrived in Guyana on Tuesday with Medical Chief of Staff, Alexandra Hospital in Nevis, John Essien, the Health Planner Shelissa Martin and the Director of Nursing, Aldris Pemberton. The study tour was geared at observing the Guyanese health care system for emulation in the health administration of the two islands.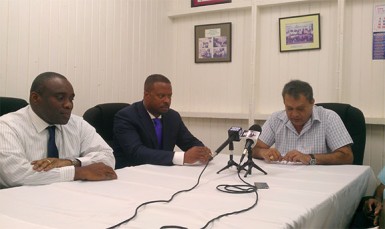 "We feel that this trip is the start of something very good," Brantley told reporters yesterday at a press briefing at the Georgetown Public Hospital Corporation. He added that they hoped to further cement relations between Guyana and the islands.
"We may not be able to pass expertise to you but we can tell you that we have thousands of Guyanese working in our country and there has been some economic benefit that has been flowing to Guyana for the last 20 years," he said while stating that they were seeking to form a "symbiotic relationship" with Guyana.
He said further that after examining Guyana's dialysis services, they decided to have nurses sent to Guyana to observe how dialysis care is carried out. He stated that they had received information from one St. Kitts national who commended the health care he received from the local hospital. He noted that after seeing the system for themselves they realised that "health care service in Guyana is a model to emulate."
"We feel that our health care people can benefit from training from Guyana," he said, noting that a great portion of their population is affected by chronic illness and therefore a hemodialysis unit is vital.
Brantley said the islands were under strain because some patients would have to leave the country to undergo dialysis treatment. "As a government we have an obligation to our country to have certain services available to them so that they wouldn't have to be away from their family. We wanted to come and see Guyana's dialysis model… and we will go back and try to implement something speedily at home."
Comments

LONDON, (Reuters) – The gradual decline of West Indian cricket is hardly a new phenomenon but the latest capitulation of a once-dominant test match power has brought genuine expressions of sadness throughout the sport.

Eleven residents of the juvenile correctional centre at Onderneeming on the Essequibo Coast were apprehended between yesterday and this morning.

With growing pressure on the government over the overcrowding of jails, MP Michael Carrington is confident that the parliamentary bill in his name to ease penalties on marijuana use will gain the support of the governing APNU+AFC benches of which he is a member.
The National Toshaos Council (NTC) is to begin its conference today and high on the agenda will likely be ongoing concerns about the lands commission of inquiry (CoI) which the government has convened.
A Trinidad-based medical products company has secured four contracts worth $135.4m. According to the Ministry of the Presidency (MotP), Cabinet at its meeting on August 15,2017 noted the award of 16 multi-million-dollar contracts.