The three men accused of stealing $17M from Shamdas Kirpalani during a hold-up late last year were yesterday freed of the charge after the police failed to produce the case file.
A fourth accused, Joan Persaud, charged with receiving stolen funds, also had the charge against her dismissed.
Howard Rambarose, Rajiv Rajesh Singh, and Alastair Naughton were first brought before the courts on December 27th, 2013, charged with stealing $17.25M from the business during a robbery on December 20th. Persaud, the aunt of Rajesh Singh, was alleged to have received the sum of $370,000, knowing the money to be unlawfully obtained. They all denied the charge when it was read to them by Chief Magistrate Priya Sewnarine-Beharry.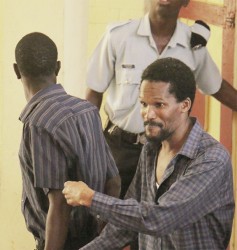 Yesterday, after seven adjournments over a five-month period, the quartet was finally able to claim freedom after the announcement by police prosecutor Bharat Mangru that he was not in possession of the case file. The trial never got underway since the four were charged.
Naughton's lawyer formally requested that the matter be the dismissed and the appeal was granted. Naughton, who had been granted $400,000 bail in March, had been in police custody since his first court appearance.
During the initial appearance in December, Prosecutor Mangru had stated that Singh had been employed by the general store and had been tasked with depositing the store's funds into its bank account. On the date in question, Singh was in the company's vehicle en route to deposit the funds when the vehicle was allegedly held up by Rambarose and Naughton.
According to Mangru, $500,000 and $211,000 respectively, were recovered from Rambarose and Naughton.
Comments

Several candidates recorded outstanding performances at this year's Caribbean Advanced Proficiency Examination (CAPE).

 Geometric improvements will be carried out on the East Coast Railway Embankment Road come September for smoother traffic flow.
Swift action by the Law Enforcement and Investigation Division (LEID) of the Guyana Revenue Authority (GRA) aided in the removal of a large quantity of seized foreign chicken from two separate cold storage facilities in the Berbice area after it was discovered that the commodities were unlawfully being disposed of, the GRA said today.

Farha Faiz, a lawyer, speaks with the media after a verdict for the controversial Muslim quick divorce law outside the Supreme Court in New Delhi, India August 22, 2017.  

Defeat Tallawahs by 37 runs Chris Gayle, playing in his 50th CPL match, produced his 63rd T20 fifty as St Kitts & Nevis Patriots cruised past Jamaica Tallawahs by 37 runs to guarantee a place in the playoffs for the first time in their three-year history.