An early morning hit-and-run accident at Golden Grove, West Coast Berbice has resulted in the death of pedal cyclist, Neil Wallerson, 53, of Hopetown Village.
He was picked up in an unconscious state and taken to the Fort Wellington Hospital where he was pronounced dead on arrival.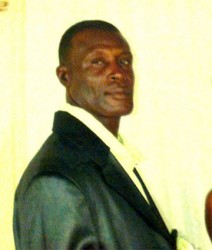 Reports are that he sustained head injuries and there was a gaping wound to the back of his head.
Wallerson was riding his bicycle along the roadway when a Toyota Tundra vehicle struck him from behind.
He was flung some distance on impact.
His badly mangled bicycle was taken to the Fort Wellington station while police are yet to locate the vehicle which hit him.
Residents told this newspaper that around 5.15 am they heard the loud noise and thought that a cow was hit.
When they looked out they saw the driver slow down a bit and after apparently realising someone had been hit, the driver sped away. Residents said the vehicle was "wobbling."
His former partner, Hazel James said she heard someone shouting for her son to "come quick and see yuh ole man get knock down in front 'Water Gate' [a disco]," a short distance away.
She was still lying in bed and when she heard that she jumped out and told her daughter, Melissa "hear yuh father get knock down…"
At the time, Melissa, a medex with the army was "bathing to go to work." When this newspaper visited Melissa was crying uncontrollably.
James said she learnt that Wallerson, who worked as a labourer with rice farmers in the backdam, had gone to village to check if some other men "were going to work."
The men responded that they were and he left to go to the neighbouring Bush Lot Village to wait on them. His lunch bag was on his back.
Comments

(Trinidad Guardian) Education Minister Anthony Garcia says the University of Trinidad and Tobago (UTT) is of the view that the organisation is "overstaffed and to run the university efficiently it will mean they have to trim fat." But former Tertiary Education Minister Fazal Karim is warning that the decision to retrench 287 staff members, will "compromise the quality of teaching and learning and administration at the university," and may impact its accreditation with the Accreditation Council of Trinidad and Tobago (ACTT).

In preparation for Guyana's emerging oil and gas sector and the bustling business usually synonymous with the industry, the Pegasus Hotel is expected to undergo a huge expansion which includes office and residential rental spaces.

Police Commissioner Seelall Persaud is to resume his duties today after spending approximately six months on leave, Public Security Minister Khemraj Ramjattan yesterday confirmed to Stabroek News.
The Alliance For Change (AFC) yesterday launched a scathing attack on the union GAWU, accusing it of decades of sabotage of the sugar industry and not genuinely representing the interests of its workers.

The importance of foot health, especially for persons with diabetes, was emphasized by Podologist Yvonne Braithwaite yesterday, when she launched the local leg of Rovon Health Care Inc, which includes a foot spa.