A 52-year-old Lima Sands man is now dead after he was stabbed to his abdomen on Sunday last at a rum shop during an argument over cricket.
According to reports, at around 6 pm on Sunday, Edward Williams, a labourer, was stabbed to his abdomen during an altercation with another man at a rum shop called 'Flower Lady' at Anna Regina Squatting Area.
Investigations which were conducted revealed that Williams and Rabindra Ramnauth of Anna Regina Housing Scheme were on a drinking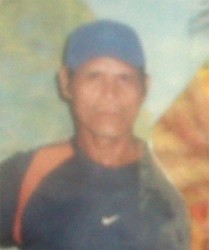 spree at Ramnauth's aunt's place when an argument ensued between over a cricket match.
The argument then became heated and Williams was dealt one stab to his abdomen with a knife. He was then picked up and rushed to the Suddie Public Hospital where he later succumbed while receiving treatment.
This publication was told that the knife which was used to stab Williams had been taken from someone who was peeling green mangoes at the time.
Police at Anna Regina apprehended Ramnauth and the liquor store owner was taken in for questioning and subsequently released.
The body of Williams is at the Suddie mortuary awaiting a post-mortem examination.
Investigations are continuing.
Comments

Michael Bhopaul, 16, doesn't know if he is this year's best performer at    the Caribbean Secondary Examination Certificate (CSEC) Examinations, but with preliminary results showing that he has obtained passes in 25 subjects, he will be hard to top.

Inmates at the Lusignan Prison turned over 33 improvised weapons yesterday morning to prison authorities, who say that they also apologised to the prison staff for the unrest at the facility on Friday night.

Well known Berbice attorney Chandra Sohan was arrested on Friday after he allegedly struck a pedestrian in a hit and run accident along the Williamsburg Public Road.

For a little more than an hour yesterday, the streets outside the Mackenzie Market rang with the voices of dozens of Linden residents who turned out to support a march against homosexuality.
The woman killed during the violent storm in Jawalla, Region Seven on Friday, has been identified as a mother of two, who was seven months pregnant.