The woman accused of abducting a baby just over a week ago was yesterday charged with child stealing when she appeared in the Whim Magistrate's Court before Magistrate Rabindranauth Singh.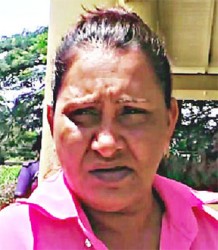 Baitoon Husain, 47, called "Debbie" of Mahdia was yesterday refused bail after she pleaded not guilty to the offence. Husain was charged under Section 90 (a) of the Criminal Offences Act Chapter 8:01. The charge read to Husain stated that on Saturday, May 24, in the vicinity of Port Mourant, she took away the baby of Sandra McLean with the intent to deprive the woman of her then 9-day-old baby boy.
Following her not guilty plea, her attorney Rodwell Jagmohan made application for bail. However, Police Prosecutor Sergeant Phillip Sherriff objected on the grounds of the seriousness of the offence and that if bail were granted the accused might not return to court.
Bail was refused and Husain will return to court on June 16 for the report and fixture.
Meanwhile, all other persons who were taken into custody over the abduction were released due to lack of evidence.
On May 16, Husain, who allegedly presented herself as a woman named Bibi Khan, befriended McLean, who was at the Skeldon Public Hospital having just given birth. Husain reportedly gave the baby $5,000 twice.
On May 24, McLean and her baby went with the accused to purchase items for the baby's nine-day celebration.
The accused subsequently sent McLean to buy fish, insisting she would hold the baby. However, when McLean returned, both the baby and the woman had disappeared. The matter was reported to the police and frantic searches ensued.
On June 1, police received an anonymous tip and went to a house at Chesney Front, Corentyne, where they found the baby.
Husain and at least one other person were taken into custody.
Comments

GEORGETOWN, Guyana,  CMC – Jason Mohammed completed his seventh first class hundred but there was little joy for Trinidad and Tobago Red Force as Guyana Jaguars needed a mere 45 deliveries to pull off an innings and 81-run win in their final round match here today.

LIMA, (Reuters) – Pope Francis wrapped up his trip to Chile and Peru today by warning that Latin America was in a deep crisis from corruption, with politics in most countries "more sick than well." Speaking in improvised remarks to bishops, he mentioned the scandal involving construction company Odebrecht, which has admitted to paying billions in bribes, as an example of greed run amok across the continent of his birth.

SYDNEY,  (Reuters) – England's Jos Buttler struck a belligerent unbeaten 100 to set up a 16-run win over Australia in the third one-day international on Sunday, as the touring side took an unassailable 3-0 lead in the five-match series.

The Public Procurement Commission (PPC) hopes that by the end of this year debarment legislation would be in place as it will soon begin meeting with stakeholders on a draft.

A bill to provide a legal framework for the protection of witnesses was passed without amendment by the National Assembly on Friday evening despite arguments by the parliamentary opposition that it failed to take into account modern challenges.