– policeman testifies
Roger Pilgrim, who is being tried for the 2011 murder of his neighbour Shane Rowley in `A' Field Sophia, had admitted to stabbing Rowley twice in his caution statement, a police witness testified yesterday.
Pilgrim is accused of killing Rowley in January 2011 after a long-standing feud over the use of a passageway. He is on trial before a 12-member jury and Justice Dawn Gregory in the High Court.
Police witness Cabnauth Singh told the court that Pilgrim had confessed in an oral statement to injuring Rowley. Singh said Pilgrim was then asked to give a written statement and he agreed, adding that no force or violence was used against him.
State attorney Mercedes Thompson requested that the statement be admitted as evidence in the trial and it was tendered by Justice Gregory. Singh read the statement.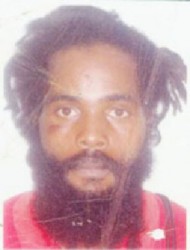 In his statement, Pilgrim related that he was sleeping when his younger brother woke him up and told him to look through the window.
He said he saw Rowley, with a big chain in his hands, saying that nobody was allowed out of the yard. He said that Rowley and his brother Sherwin had a confrontation and he sent his mother out to see what was happening. He recalled seeing Rowley shove his mother and he immediately went out.
He said he was lashed across his back with the chain by Rowley and he retaliated by picking up a knife that was close by.
Pilgrim stated that Rowley attacked him and he, in defence, knifed him in his neck and abdomen. He added that he disposed of the knife and left the yard.
Under cross-examination by attorney Hukumchand, Singh said he did not order Pilgrim to be examined by a doctor for the said injury. He said it was not needed, since he saw no signs of injury.
The state prosecutor also called several police who were present at the scene and at the post-mortem examination.
The trial continues today.
Comments

Eighteen prisoners at the Lusignan penitentiary were being treated for injuries last night following a reported attempt to kill a fellow inmate during which warders fired shots.

A 12-year-old girl is now dead, while her brother narrowly escaped a similar fate yesterday after their aunt's La Bonne Intention (LBI), East Coast Demerara house, which they were under, collapsed on them.

Guyana has officially applied for membership in the European Union's Extractive Industries Transparency Initiative (EITI) which will help in tracking revenues from oil and other natural resources.

State Minister Joseph Harmon yesterday reiterated that President David Granger's directive to the Police Service Commission to halt its consideration of promotions was intended to prevent damage to the image of the Guyana Police Force but he could not say under what authority the head of state acted.

While saying that a strong security presence along the country's borders is the first line of defence against transnational criminal syndicates, President David Granger yesterday called for cooperation by all actors to see the security of Region Nine as a priority.