A gold miner accused of assaulting his girlfriend was placed on bail on Tuesday when he appeared in a city court.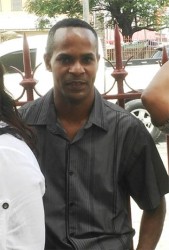 Hewley Robertson, 42, of 17 James Street, Albouystown, denied that he on May 24, at Albouystown, unlawfully assaulted 18-year-old Shanice Joseph.
It is the police's case that Robertson vised Joseph with his hands after an argument ensued between the two, at his home. Prosecutor Jomo Nichols said the matter was subsequently reported and the defendant was arrested and charged.
Appearing before Magistrate Geeta Chandan-Edmond, Robertson told the court that Joseph kept showing up uninvited at his home. Meanwhile Joseph told the court that she visited the defendant after he threatened her.
Magistrate Chandan-Edmond maintained the granting of self-bail to Robertson that had been earlier ordered by Chief Magistrate Priya Sewnarine-Beharry and advised both parties to apply for protection orders.
The matter was adjourned until June 10th, when Robertson's trial is scheduled to begin.
Comments

Eighteen prisoners at the Lusignan penitentiary were being treated for injuries last night following a reported attempt to kill a fellow inmate during which warders fired shots.

A 12-year-old girl is now dead, while her brother narrowly escaped a similar fate yesterday after their aunt's La Bonne Intention (LBI), East Coast Demerara house, which they were under, collapsed on them.

Guyana has officially applied for membership in the European Union's Extractive Industries Transparency Initiative (EITI) which will help in tracking revenues from oil and other natural resources.

State Minister Joseph Harmon yesterday reiterated that President David Granger's directive to the Police Service Commission to halt its consideration of promotions was intended to prevent damage to the image of the Guyana Police Force but he could not say under what authority the head of state acted.

While saying that a strong security presence along the country's borders is the first line of defence against transnational criminal syndicates, President David Granger yesterday called for cooperation by all actors to see the security of Region Nine as a priority.