The Tower Hotel saga continued yesterday with workers turning up to be paid outstanding amounts only to find a desolate building still without power and no one in authority present.
"The workers went there today and none of the directors were there the place was still without lights and now I don't know, they will return tomorrow and every day until someone says something," President of the Clerical and Commercial Workers Union, Sherwood Clarke said yesterday.
CCWU is the union representing 90% of the Tower Hotel workers.
On Monday, some workers returned to work after an agreement was reached the Friday before, between the hotel's directors and the union.
Then, they were given two options that is to take a severance package and give management one month to pay it off or Tower Hotel pays off all back wages and salaries and workers resume work. Twenty-one took the latter option while 24 took the former.
On Monday, Stabroek News was told that the 21 employees turned up for work as promised and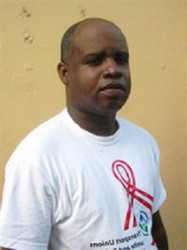 were given a partial payment of $9500 each. However they had to leave the premises as not only were they not given all their monies but the Guyana Power and Light (GPL) had not reconnected the electricity to the building. Workers had begun cleaning the hotel but this was limited as electricity was needed. Stabroek News understands that some $7.8M is owed to GPL.
A source told this newspaper that workers from GPL went to the establishment to reconnect the power yesterday but received directives from the hierarchy of GPL to desist and return to headquarters.
The workers say that they will return to work every day in the hope that one of the hotel's directors visit to give them word on their outstanding monies and a way forward as it pertains to the hotel.
On May 23rd the hotel abruptly closed which saw employees venting their anger and frustration after they were told through an anonymous phone call that letters were at the front counter for them. They said when they collected the letter it stated that that day was the last day of work for them as the hotel was closing. They continued their protests in the days that followed.
The hotel then released a statement on May 27th explaining its abrupt closure saying that business had declined dramatically in recent times and assuring that assets would be liquidated to pay outstanding amounts to its employees.
One of its owners, West Demerara businessman Salim Azeez met with the union last Wednesday and had proposed that workers return to work for one month unpaid until he was somewhat clear of his financial crisis. The union rejected the proposal and Azeez left and returned last Friday with another option.
It was at the Friday meeting that a deal was brokered and the protest action called off.
The union had explained that those workers who took the severance package offer could no longer work with the company and would have to seek employment elsewhere.
Further, he had said that Azeez informed the union that he has new financiers who will be managing the hotel from Monday and that GPL would have the power to the hotel reconnected. Sources told Stabroek News that up to yesterday the new promised management had not visited the hotel.
Azeez along with US-based businessman James Manbahal, Bharti Persaud Misir and Varendra Shiwratan are the last known owners of the hotel.
Hotel Tower first opened its doors in 1866 on the site of the present Guyana Post Office.
In 1910, it was re-sited to its present location on Main Street under expatriate ownership. In 1946, the property was acquired by a Guyanese/ Barbadian family, the Humphreys, along with 50 other shareholders and re-named Hotel Tower Ltd.
Comments


The National Accreditation Council of Guyana (NAC) is advising the public that the American Medical Institution is not registered with the NAC as is legally required for post-secondary and tertiary educational institutions operating in Guyana.

MUMBAI, (Reuters) – India captain Virat Kohli had something to cheer on Thursday when he was named ICC World Cricketer of the Year, a day after suffering his first test series defeat as skipper in South Africa.

Fifteen city councillors voted yesterday in favour of accepting the recommendations of the parking meter renegotiation committee, which would see a reduction in parking fees to $150 per hour, exemptions for religious organisations and schools, and Smart City Solutions (SCS) giving up on their claim to garage parking.

A GDF rank was yesterday remanded to prison over three armed robbery charges and alleged possession of an unlicensed gun and ammunition.
Minister of Natural Resources and Leader of the Alliance for Change (AFC), Raphael Trotman on Monday praised ExxonMobil for investing in the oil sector here and said it is now resulting in other important companies wanting to do business here.