A fire, believed to be arson, on Friday night destroyed the home of former PNC parliamentarian Dunstan Barrow in Linden.
The blaze which occurred around 9.30 pm in Richmond Hill quickly engulfed Barrow's two-storey home and a man was seen fleeing the scene.
However, no one was hurt since Barrow and his family reside mainly in Georgetown. The house was unoccupied and had no electricity.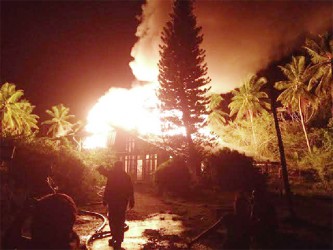 An eyewitness told Stabroek News that she was the first person to see when the fire started. She said she saw the flames in the top storey of the house and quickly alerted the fire station. She said two fire engines arrived at the scene but eventually one ran out of water.
Another eyewitness said he saw a man running away from the scene when fire started to consume the house and he chased after him. But the man escaped.
When contacted, Barrow and his family refused to comment on the issue, stating that they were trying to come to grips with the situation.
Comments

The Management of Cheddi Jagan International Airport Corporation (CJIAC) is currently undertaking a massive expansion project  and a Temporary Arrivals Terminal Building was recently constructed.

Tourism Minister Shamfa Cudjoe announced the decision to close the company. (Trinidad Express) The Tourism Development Company (TDC) has ceased operations.

Cevons clearing city garbage WPA STATEMENT ON THE UNRESOLVED ISSUE OF GARBAGE COLLECTION IN THE GEORGETOWN MUNICIPALITY The WPA is deeply concerned that the Georgetown City Council's inability to honour its financial obligations to Cevons Waste Management and Puran Brothers has the potential of endangering the health and lives of citizens.
British High Commissioner to Guyana Greg  Quinn  yesterday said that it was hoped that more would have been done to push the constitutional reform process forward.

A West Coast Berbice man died after he reportedly set his one-storey house ablaze sometime around 11.20 am yesterday.