A group of Muslim women in Berbice are now ready to join the fight in tackling domestic violence after completing three sessions of intense training.
The women who are members of the National Islamic Sisters' Associa-tion (NISA) were presented with certificates at a graduation ceremony on Sunday at D' Edward Village, West Coast Ber-bice, following the final session.
The two previous sessions were held in New Amsterdam and at Port Mourant, Corentyne respectively.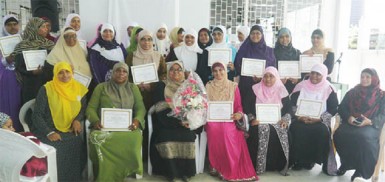 The training was facilitated by Sultana Jamaludeen, a graduate in social work from the University of Guyana and a counsellor attached to the Guyana Islamic Trust in Georgetown – of which NISA is an arm.
The participants were grateful to Jamaludeen for her professionalism and patience in imparting her skills during the training and for motivating and inspiring them to help women/families in abusive situations.
Jamaludeen emphasized that, "Islam stands firm for justice, equity and freedom" and encouraged the participants to "use the tools you have been armed with to make a difference in the lives of victims."
She urged them too to "reflect on the roles and functions that you perform as Muslim women" – which include reaching out to persons in difficult circumstances and being the "voice for the voiceless."
Leader of NISA Shabna Ullah said a few of the women would be selected for further training and that similar sessions would also be held for members in the Essequibo and Demerara areas.
According to Ullah, NISA saw the need for the women to get involved because of the increase in domestic violence plaguing families.
Shazida Abdullah, an executive member who chaired the graduation session, told the large gathering that "NISA would always be willing to help and you can be assured of confidentiality."
The sessions were also attended by other executive members of NISA; Natasha Singh-Lewis, Farina Yusuf and Safeeya Yacoob.
Comments

The NOC compound (SN file photo) Eleven residents of the juvenile correctional centre at Onderneeming on the Essequibo Coast were apprehended between yesterday and this morning.

With growing pressure on the government over the overcrowding of jails, MP Michael Carrington is confident that the parliamentary bill in his name to ease penalties on marijuana use will gain the support of the governing APNU+AFC benches of which he is a member.
The National Toshaos Council (NTC) is to begin its conference today and high on the agenda will likely be ongoing concerns about the lands commission of inquiry (CoI) which the government has convened.
A Trinidad-based medical products company has secured four contracts worth $135.4m. According to the Ministry of the Presidency (MotP), Cabinet at its meeting on August 15,2017 noted the award of 16 multi-million-dollar contracts.

The police on Friday evening discovered an AK-47 assault rifle and a quantity of ammunition in a haversack at Kingston, Georgetown.